Up to $1,500 Paid Back in Bonus Bets
Your First Bet Is On Caesars Up To $1,000
Second Chance Bet up to $500
2nd Chance Free Bet Up To $500
10 x $100 Second Chance Bets
Bettors who prefer not to reveal their bank information can use prepaid gift cards as a quick and easy deposit option.
Online gamblers can load their accounts using prepaid debit cards they buy from local establishments like 7-Eleven, Kroger, or a pharmacy.
Prepaid options are widely available in online sportsbooks and gambling applications. Some sportsbooks also sell prepaid gambling gift cards that may be used at a variety of different retailers.
CasinoWatchPA has compiled a list of the top Gambling Sites with Prepaid Gift Cards and Apps and a detailed guide on how gamblers may quickly and easily transform cash into online betting funds using these cards. Find out which online sportsbooks allow prepaid cards and everything else gamblers should know before making deposits below.
Prepaid gift cards facilitate online wagering with currency. To get started, purchase a gift card via a local retailer and redeem it on any online sportsbook as you would with a standard Visa card.
Although gift cards for online gambling are practical for specific purposes, readers should be aware that they cannot use any prepaid card to wager online. Bettors must select the appropriate card brand in order to guarantee a successful deposit, as standard prepaid cards frequently block transfers to mobile sportsbooks.
Read on for further information.
Prepaid Gift Cards For Online Betting Sites
Up to $1,500 Paid Back in Bonus Bets
Your First Bet Is On Caesars Up To $1,000
Second Chance Bet up to $500
2nd Chance Free Bet Up To $500
10 x $100 Second Chance Bets
The majority of online sportsbooks take gift card deposits. Still, players must select the correct brand to guarantee a successful transaction. Prepaid Visa cards possess the most excellent acceptance rate, while other gift cards are less frequently accepted.
Some gamblers report achievement with Vanilla Visa gift cards bought from pharmacies and convenience stores, but results may differ by individual. There are two methods for gamblers to select the correct prepaid gift card.
First, they can visit a physical retailer and call the phone number on the back of any gift card to ask customer service if the gift card can be used to finance legal online sportsbook accounts.
Bettors can also contact customer service at their preferred online sportsbook for advice on selecting a prepaid gift card. Either the customer service team will inform them of the brands of gift cards with the highest acceptance rates, or they will be given an alternative deposit method that is similar but distinct. Remember that sports betting sites that accept prepaid cards want to make it as easy and fast as possible for users to fund their accounts.
PayNearMe: Comparable to Prepaid Gift Cards but Superior
Due to card issuers' varying rules regarding online gambling, finding the appropriate prepaid gift card can be challenging. Still, consumers have access to alternatives that work in every instance.
PayNearMe, a prepaid voucher that partners closely with the lawful gambling industry, is the closest alternative. PayNearMe is extremely practical for three reasons:
The majority of betting sites allow PayNearMe.

Deposits using PayNearMe are always successful.

PayNearMe vouchers are available at a number of stores, such as 7-Eleven, CVS, and Family Dollar.
In summary, PayNearMe functions similarly to a prepaid gift card, but its success rates are significantly higher.
DraftKings Gift Cards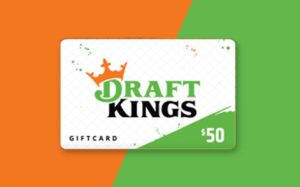 The DraftKings sportsbook maintains a line of prepaid cards, providing daily fantasy and sports wagering customers with an additional cash-funding option.
DraftKings gift vouchers can be purchased at retailers like Dollar General, 7-Eleven, Speedway, and Sheetz. In addition, DraftKings gift cards are difficult to overlook due to their prominent branding:
Wagering on DraftKings gift card purchases
It is simple to purchase and use a DraftKings gift card:
In-person purchase of a DraftKings gift card at a local retailer.

Remove the label from the backside of the card to disclose the card number and other details.

Visit the DraftKings cashier after logging in to make a deposit.

Select "credit or debit" and enter the gift card details to finish the deposit.
Bettors may buy DraftKings prepaid cards in $25 and $50 increments.
READ MORE: DraftKings PA Play+ Prepaid Card
BetMGM Gift Cards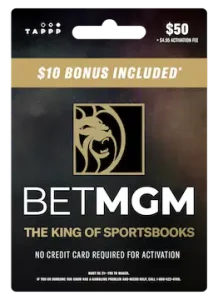 To fund their accounts swiftly and safely, bettors are able to buy BetMGM gift cards at tens of thousands of retailers, including gas stations and Dollar General locations.
MGM Sportsbook PA gift vouchers are available in the majority of states in which BetMGM operates, and company representatives have stated that their availability will continue to expand over time.
BetMGM gift vouchers are currently available in $25 and $50 increments, and each purchase qualifies the purchaser for a $10 bonus.
Wagering on BetMGM gift card purchases
BetMGM gift card transactions are simple:
Visit a qualified retailer in person to purchase a BetMGM gift card.

Log in to BetMGM, navigate to the cashier, and click "Deposit."

Select the logo of the TAPPP gift card

Select the "Redeem and Continue" button.

Enter the 16-digit PIN found on the card's reverse.
READ MORE: BetMGM PA Play+ Prepaid Card
Caesars Gift Cards 
The Caesars Sportsbook PA takes some Visa prepaid gift cards but cannot guarantee their use. Similar to other online sportsbooks, Caesars does not always accept generic prepaid cards due to card issuer policies.
Visit the cashier's desk and sign up for a free Play+ account and card for the most incredible odds at the Caesars Sportsbook. After registering, players acquire a digital Play+ card that they can load with a variety of payment options and use immediately. Additionally, they receive a tangible card approximately two weeks later.
Customers may also buy Caesars Rewards gift certificates online or at any Caesars Entertainment location's Caesars Rewards Center. Still, Caesars Rewards gift certificates are only valid at retail sportsbook locations for in-person wagering. If you want to use Caesars Sportsbook online, consider Play+ or a generic Visa gift card.
READ MORE: Caesars PA Prepaid Card Guide to Obtaining, Funding, and Using Your Card
BetRivers Gift Cards
In the majority of states, BetRivers Sportsbook recognizes Game On gift cards (see below). Customers can purchase Game On gift vouchers for up to $400 online or in-store at participating retailers. Then, BetRivers gift cards can be redeemed online by accessing the cashier and choosing "credit card" as their deposit mode.
BetRivers cannot guarantee the functionality of specific Visa prepaid cards, as some card issuers block transactions to sports betting sites and casinos.
If you're having trouble depositing to BetRivers PA Sportsbook using your prepaid Visa card, you can instead use Play+. In addition, cards that do not function directly with BetRivers can often be employed to load a Play+ card and complete the transaction.
PointsBet Gift Cards
PointsBet takes prepaid gift cards but fails to offer a custom solution, self-branded cards. In addition, the PointsBet cashier informs users that fewer than half of U.S. credit and debit cards permit sports wagering transactions, so users should be prepared with an alternative payment method.
PayNearMe is the ideal alternative for PointsBet customers. It functions similarly to a prepaid card in that users can make purchases in person via cash, and no banking information is required. Furthermore, PayNearMe deposits remain successful.
PointsBet once offered a prepaid, reloadable card named the PointsBet Mastercard, but it has since discontinued this option.
READ MORE: PointsBet Gift Card Payments Guide
Game On Gift Cards
The Game On gift cards function like a standard prepaid debit card but can only be used for mobile sportsbooks.
Blackhawk Network, one of the nation's largest gift card issuers, offers Game On gift cards through a variety of retailers in a number of states, with intentions to expand distribution to other states where sports betting is legal.