PointsBet is currently one of the leading sportsbooks in the United States, but it was founded in Australia. Players who use the PointsBet website will, at one juncture, need the PointsBet customer service to fix an issue or get some explanations. A PointsBet contact is a convenient option with few restrictions.
Players can use one of the current contact options, including a physical address in Pennsylvania, United States, an email address, live chat, and a phone call.
PointsBet Customer Service
When using their PointsBet account, punters occasionally encounter a snag. It can include anything from solving a problem to sending inquiries or providing feedback on a specific service or product. However, customer service can be precious when it comes to getting explanations about a service or promo, getting updates, clarifying an issue, and a variety of other things. 
Clients new to the site and want specific information should contact PointsBet. Contact with PointsBet is an essential component of customers and the service provider interaction and contentment. 
To contact PointsBet Sportsbook, use any of the methods listed below. Discover which options are the quickest to resolve your customer service issues.
There are several ways to get in touch:
Email
PointsBet Email [email protected] is available 24 hours a day, seven days a week, with a guaranteed response time. It is quick and one of the most popular modes of communication among its numerous users. PointsBet contact includes an email function via its "email us" tab. Players can find the "email us" tab on the PointsBet.com website in the lower right corner. As a point of contact, the response time is quick and encouraging.
Telephone Support
PointsBet PA goes a step further by establishing a PointsBet customer service number where punters can call if they have problems with sign-ups, deposits, promotions, account suspension, withdrawal issues, and so on. Finally, following the responsible gaming policy, users and non-users may contact PointsBet if someone requires assistance.
Live Chat
It's an interactive option that allows customer support to provide solutions quickly and easily. Live chat enables conscious interaction with a customer service desk provider or team. A live chat option is available 24 hours a day, seven days a week. With PointsBet live chats, there is a direct relation with the PointsBet customer care officials, and queries or complaints are responded to quickly. The live chat option is in the lower-left corner of the PointsBet Pennsylvania official site. Conversations in PointsBet customer service chat can be saved and retrieved later.
FAQ Section
The PointsBet website's help section contains a plethora of ready-made FAQs. These are common questions that many punters who sign up to PointsBet have. The PointsBet website's help section already has ready-made FAQs with answers that customers can view to fix similar issues they are experiencing. Below are some questions and answers from the help section.
PointsBet Sportsbook and Casino Promo Code 2023

You will receive 5x$50 Second Chance Bets. In your first fixed odds bet, there is a second chance bet at PointsBet of up to $250. To obtain the PointsBet bonuses, follow the PointsBet free bet rules.
PointsBet App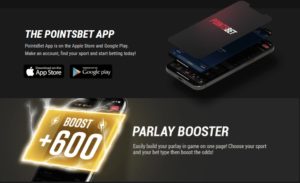 Downloading the PointsBet iOS or Android app is as simple as looking for "PointsBet sportsbook" in their respective app stores.
PointsBet uses one app for all states, so clients who have previously downloaded it can launch it. Then, enter the menu and, at the bottom, change the state selector to Pennsylvania.
Gamblers from various states can access the PointsBet sportsbook app using a single account, but each region has its wallet.
When moving from one state to another, bettors need not open new accounts. However, they must fund their Pennsylvania accounts separately to place wagers in Pennsylvania. Aside from it, the PointsBet download is the same across the board.