What you need to learn about MGM's M Life Rewards Program. How to get M Life rewards in online sportsbooks and casinos.
BetMGM's M Life Rewards Program is a casino and sportsbook rewards program. By playing at several of MGM's facilities, you may earn points toward incentives and perks.
The M Life Rewards Program isn't just for gamblers. The BetMGM rewards points you earn can be used to pay for things like hotels, restaurants, and entertainment.
We will tell you all you need to know about MGM's M Life Rewards Program, with an emphasis on the online gaming arena. Furthermore, how to get Bet MGM rewards points along the road.
What Are the Different M Life Tiers?

Before we get into how you may earn M Life prizes for yourself, it's essential to understand the five MLife tiers. The BetMGM rewards program tier structure is straightforward: the more credits you accumulate, the greater your tier status, and the better the perks. Your elite status level is determined by the BetMGM tier credits obtained in a tier status-earning year.
The MGM rewards levels are as follows:
Sapphire:

 0-24,999

Pearl: 

25,000-74,999

Gold: 

75,000-199,999

Platinum:

 200,000+

NOIR:

 Invitation Only
M Life Sapphire tier
Sapphire is the lowest MLife tier, and you acquire it if you earn 0-24,999 tier credits during a tier status-earning year.
There are advantages for casino online and sportsbook players, in addition to specialized offers and hotel savings. For example, members of the Sapphire tier can earn iReward Points (IRPs), which can be redeemed for express comps, cash, and bonuses. In addition, sapphire members receive iRPS when they wager at online casinos and on-property sportsbooks.
The iRPs gained via online gaming can be redeemed at any M Life Rewards location.
MLife Pearl tier
You will become a Pearl MLife tier user once you have collected 25,000 tier credits. As a Pearl MLife member, you first have access to all of the benefits of Sapphire membership. Then, when you acquire iRPs by playing casino games online and placing online as well as on-property sports bets, you will receive a 10% bonus.
If you visit a land-based MGM location, Pearl Members also get free parking and specialized buffet lines.
You can get a unique military players card if you are part of the active military, National Guard, Reserves, or a Veteran. You will be upgraded to Pearl status irrespective of whether or not you have played or spent money at any of the properties.
M Life Gold Tier
Gold M Life tier Gold is when you genuinely start to get some fantastic MGM rewards. First, earn 75,000 tier credits, and then you will be upgraded to Gold status. It provides you with all of the perks of the preceding tiers. PLUS a 20% bonus when you earn iRPs by playing online casinos and placing on-property and online sports bets.
You will also be granted priority hotel check-in at the front desk. MGM's land-based attractions also provide free valet parking, fine dining prioritized reservations, and other MGM reward points benefits.
M Life Platinum tier
As a Platinum MGM member, you will receive all of the perks of a Gold membership, plus a 30% bonus when collecting iRPs by playing online casino and placing online and on-site sports bets. After generating 200,000 tier credits in a tier status-earning year, you will be eligible for this.
You will also have preferential access to valet and cab services, as well as 15% savings at partner retail locations. Even a free cruise every year!
M Life Noir tier
The crème de la crème can only be obtained by special invitation. Nobody knows precisely what you need to do to get welcomed. But it entails a lot of gaming, going to a lot of MGM's casino and sportsbook properties, and spending a lot of money there.
You are once again eligible for all of the previous tier's advantages. In addition, you will also receive a 40% bonus while earning iRPs by playing online casinos and placing online and on-property sports bets.
Confirmed hotel and restaurant reservations, complimentary limousine transportation to and from the airport, free hotel accommodation, and VIP lounge check-in are just a few of the beautiful rewards available if you ever reach the top of MGM's M Life Rewards Program.
What is the Process for Obtaining iRPs and M Life Tier Credits?
You will earn iReward Points (IRPs) as a BetMGM online casino or sportsbook customer. It will be determined by gameplay and wagers placed. These bonus points will be applied to your total M Life tier level.
How do I get iRPs and Tier Credits for Sports?
Sports bets will yield iRPs and MGM Tiers Credits based on the odds chosen, the type of bet, and the amount wagered.
A straight bet of $50 (odds -110) will net you nine iRPs/tier credits. A $25 parlay bet (odds +300) yields 12.5 iRPs/tier credits.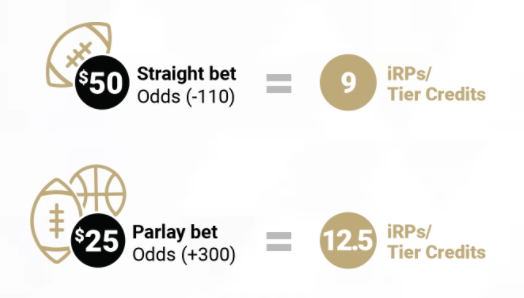 How can I get iRPs/Tier Credits at the Casino?
You may also gain iRPs/tier credits for your overall M Life Rewards rating at the MGM Casino online PA. Here is a breakdown of online casinos:
To gain one iRP/tier credit, wager $6 on classic slot games.
One iRP/tier credit is earned for every $12 wagered on progressive jackpot slots.
Spend $30 on video poker to get one iRP/tier credit.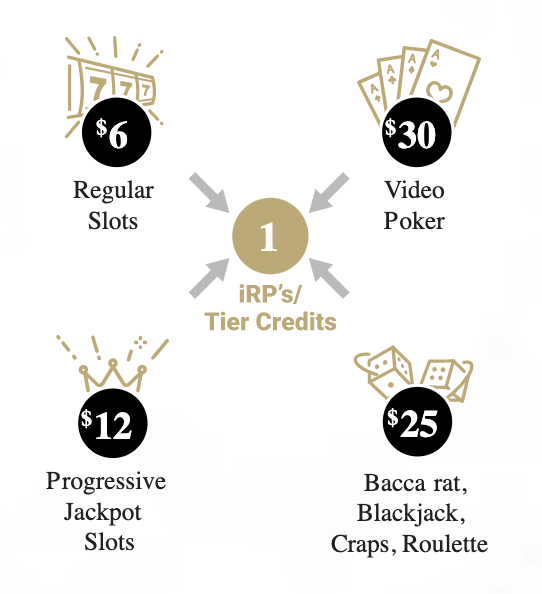 How do I get iRPs and Tier Credits in Poker?
When you enter a $1 charge MGM online poker tournament or a MGM rewards points per dollar rake cash game, you'll receive 4.20 iRPs and 4.20 tier credits.
At the Casino, How Can I Acquire M Life Tier Credits?
If you have access to online casinos and sports betting and visit the MGM sportsbook PA  and casinos in your free time, then read on.
As a client, you can earn MGM rewards card points by spending money on hotel rooms, eating, entertainment, spa treatments, slots, and table games at any MGM-owned casino.
For every $1 spent on hotel, eating, entertainment, and spa services, you will receive 25 tier credits.

For slot machines, you will gain 10 tier credits for each base point earned (a base point is obtained for each $3 coin inserted into the machine).

For video poker, you'll get 10 tier credits for each base point you earn (a base point is gained for every $10 coin you put into VP).

Base credits for table games are calculated by the average bet and time played.

The base points indicated above are required to obtain tier points by gambling at the casino. Any base points gained are multiplied by a tier credit multiplier and used to decide your rewards.
You will receive one base MGM points (10 tier credits) for every $3 wagered on slots. For every $10 gambled on video poker and speciality games, you will receive one base point worth ten tier credits. When relating to table games, the number of base points you earn is not fixed. With a $25 bet, it is anticipated that you will be earning around 300 MGM rewards program base points every hour.
READ MORE: mychoice® Loyalty Rewards Program
How to Register for M Life Rewards
Visit the MGM Resorts sign-in website by clicking here to sign in and access your M Life Rewards or by downloading the MGM rewards app, points accumulated, and advantages available to you as an MGM customer. Start by entering your account information.
It is the site where you will find any special incentives, announcements, and tier updates.
Phone Number for M Life Rewards
Suppose you need any help with your M Life Rewards program. In that case, if it is with my MGM rewards account or if you have any inquiries, MGM encourages you to contact them using the M Life Rewards phone number.
It makes no difference whether you play at BetMGM New York or BetMGM Tennessee. Regardless of state, customer service is the same.
For further information, call M Life Rewards Member Services at 866.761.7111.