Penn Entertainment's MyChoice Loyalty Rewards Program is a reward plan that offers players and customers of the brand fascinating and distinctive mychoice.com prizes for their patronage. These MyChoice rewards can be earned and claimed both online and in person at the parent company's over 35 locations.
How Does the MyChoice Loyalty Rewards Program Work?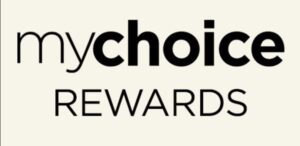 The mychoice® loyalty points program is simple to use. It involves playing casino games, betting on sports, dining, MyChoice rewards app, or using any of Penn Entertainment's services. You will receive two types of points for doing so: tier points and myCash, which you can use to earn advantages, exclusive incentives, and special deals, among other things.
Tier Levels
It pertains to the five VIP levels that mychoice® members have access to. How to earn MyChoice tier points? Players receive points for each action they do, and the more tier points they accumulate, the higher they progress up the tier level. Each level has more abundance and rewards than the previous one, and you'll be given a special card for each level you reach. As previously stated, your card tier status is determined by the number of points you have, and the available tiers and points required to reach them are listed below.
Choice

: You will be placed in this tier by default if you are already a member. While the advantages are available here, it is still restricted.

Advantage

: If you score more than 1,000 points, you will be automatically put in this tier.

Preferred

: To be put in this tier, you must obtain 18,000 tier points.

Elite

: 50,000 tier points will earn you this status.

The Owners Club

: The premium tier, with more unique incentives and exclusive deals. To join the owners club, you must have 200,000 tier points.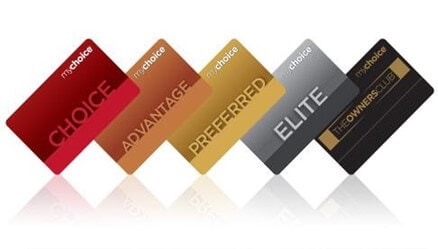 How to Accumulate Tier Points
The number of tier points you earn is totally dependent on the amount you spend, and the rates for each category are shown below.
Casino Games:
1 tier point: every $5 spent on coin-in slot machines.

1 tier point: every $10 spent on coin-in video poker.

1 tier point: every $40 spent on coin-in electronic table games.

1 tier point: every $10 worth of bets on horse racing.

2 tier points: every $1 of purchased credits at mychoice®
1 tier point: every $12 of coin-in slots.

1 tier point: every $12 of coin-in video poker.

1 tier point: every $25 of bets on tables.
Sports betting:
1 tier point: every $10 of straight bets.

1 tier point: every Barstool exclusive bet.

1 tier point: every $5 bet on parlays.
Retail Shopping & Dining:
1 tier point: every $5 of purchases at outlets.
MyCash
MyCash is the reward money of mychoice®. It is another exciting method to earn and redeem My Choice bonus rewards at over 35 qualified land-based My Choice casino locations and online operators and casinos.
How to use MyChoice MyCash? Because 1 myCash equals 0.5 dollars, your accumulated comps points can be redeemed for free play at these locations. Similarly, through the mychoice® online marketplace, myCash can be redeemed for restaurants, hotel suites, and even retail shopping.
MyCash can be generated through the Real-Time Rewards program (RTR) when you reach certain tier milestones, in addition to playing games and visiting any of the My Choice rewards casinos destinations.
However, keep in consideration that your My Choice casino amount can expire after 6 months of inactivity, which is why it is critical to be active on your My Choice offers account in order to receive your MyChoice casino credits.
$1 myCash = $2 hotel credit

$1 myCash = $2 dining credit

$1 myCash = mychoicemall

$1 myCash = $2 retail credits

$1 myCash = $1 Free SlotPlay

$1 myCash = $1 Table Play

$1 myCash = $0.50 cash
Other MyChoice Reward Options
MyHeroes

: This is a MyChoice rewards loyalty program initiative that rewards military troops, war veterans, and first responders. Those who qualify receive dining and shopping discounts, as well as a 30% discount on hotel prices.

Real Time benefits

: This innovative loyalty program allows eligible members to redeem their MyChoice rewards casinos benefits more quickly. All you need to do to get started is download the app for your phone today. You begin earning myCash after earning up to 3,000 tier points in a given time frame. Acquire tier points, and your myCash balance will grow.

MyWallet

: The new myWallet function enables members to conduct financial transactions without using a  My Choice advantage card card or cash. There are no transaction fees or other hidden costs.
How to Join the MyChoice VIP Program
Anyone over the age of 21 who resides in any of the 17 eligible states is eligible for the mychoice® loyalty program. To become a Choice member, follow these MyChoice rewards login steps:
Please register for your MyChoice rewards/home/login card at any one of their over 40 physical locations or through their mobile app, which you can download right now. It will necessitate the use of a legitimate ID card.

After registering, you can pick up your mychoice® card.

Use the ID number on the card you received to activate your free internet account.

Earn tier points to receive unique benefits such as discounts.
Can I Win Real Money Using the MyChoice App?
Although the mychoice® rewards program has numerous advantages and exciting offers for players, the MyChoice rewards app does not allow you to win real money. Instead, you can access tier-level unique incentives such as discounts at award-winning restaurants, exclusive promotions, and casino free plays. There are also status-exclusive benefits, such as lavish tropical getaways. However, it depends entirely on the bonuses you have obtained at your www.mychoice.com tier level.