The average "payback" percentage of a casino game is represented by the return to player (RTP). The term refers to games found in both online and traditional casinos, including slot machines and table games such as blackjack and roulette. Knowing this in our Return To Player – A Guide can be extremely helpful when attempting to maximize its win potential. Therefore, clever casino players often review the RTP before beginning a new game.
Continue reading our guide to slot RTP and RTP payout percentages, what it is, where to locate it, and how gamblers can use it to win online slots!
100% Deposit Match Up To $1,000 + $25 On The House
100% Up To $1,000 First Deposit Bonus + $20 on Sign Up
100% Deposit Match Up To $2,500 + 2,500 Reward Credits®
100% Deposit Match Up To $1,000 + 10 Bonus Spins
100% Deposit Match Up To $250
What Exactly is RTP?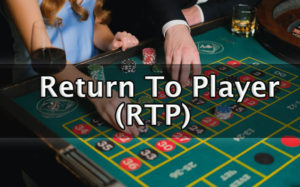 The RTP of a casino game would be the percentage of money returned to the player. For instance, an RTP of 97% indicates that the game pays out an average of $97 with every $100 gambled. It is important to note that no casino game provides a 100% RTP; the House always holds a slight advantage over the user known as the house edge.
In a real sense, the house edge is the average amount an online casino keeps, so it is the inverse of RTP. So, for instance, if the RTP of a game is 97%, the house edge is 3%. 
What is the Return To Player (RTP) on Casino Slots?
The average RTP for slots is around 96-97%. Players can find a slot RTP in the game's paytable or by searching on the internet. Popular games with a high RTP, such as NetEnt's Starburst, pay out small amounts frequently, giving players the impression that they have a winning experience. However, suppose they pause to consider it rationally. In that case, they may accept the RTP as a minor tax on their casino enjoyment.
Slots with a lower RTP, such as Microgaming's Mega Moolah (88% RTP), are considered "tight" because they produce a significant jackpot figure. As a result, most players will not receive regular, small payouts. Instead, that money is added to a constantly increasing jackpot total, which one lucky player will win.
If players look closely, RTP will reveal the spin of the house edge. For example, a machine may possess a 20% advantage, and the average Return-to-Player percentage is 80%. Over time, that machine generates 20% revenue, though all players have a reasonable chance of recovering 80% of all bets.

In casinos, RTP is Denoted as a House Edge
The RTP gambling figure in most casino table games is expressed as a house edge percentage. It essentially has the same meaning as RTP but in reverse. For example, consider European Roulette, which has a declared house edge of 2.7%. For each $100 wagered, the player can expect to lose $2.7.
Again, this may not appear to be much, and you always have the possibility of walking away as a winner from a single session. However, it is essential to remember that the house edge tends to vary between games. Because it includes an extra 00 pocket that, such as the 0 pockets, surpasses all other bets, American roulette has a more unforgiving house edge of 5.26%.
Blackjack is the only game in which you can affect the house edge. Therefore, it is expected to be 2.3% for inexperienced players. However, more experienced players using a basic blackjack strategy can reduce this to 0.5%, one of the lowest house edge numbers in the casino.
Baccarat can also come with a 1% house edge if you always gamble on the Banker. Backing Player has a 1.24% house edge, while the Tie has a whopping 14.36%.
Is Return To Player (RTP) Important in Online Casinos?
In a nutshell, yes. It is especially true for long-term players who look for their preferred slot machines or a new game to try. The greater the RTP, the more likely a player will win and receive a payout. Looking at the RTP can help long-term gamblers significantly increase their win rate.
If you want a higher chance of winning, you should play at an online casino. It is because the RTP of an online casino is generally higher than that of a land-based casino.
It is because brick-and-mortar casinos must invest significant money in maintaining their facilities. Furthermore, they are only required to contend with casinos in their immediate area, which is no competition in some areas. So, while a player can anticipate a physical slot machine to have an RTP of 70% to 90%, online slots typically have RTPs of 93% to 97%.
Does the Return To Player Mean Anything in Practice?
A slot RTP is essential for regular casino players who spend a lot of money playing. However, suppose you are a casual slot fan. In that case, the adrenaline rush of the game is sufficient, even if you lose a few dollars in the process.
RTP gives regular slot players a greater chance of obtaining more value for their money. While RNGs provide a reasonable chance of winning on every spin. RTP guarantees that the device is conditioned to pay out a percentage of all bet money, whether it be to you or another player.
Whether playing in a physical casino or gambling sites, RTP allows slot game players to recoup their losses. The House will always be at an advantage in any form of gambling. When you know how RTP works, the possibilities of your money returning to you in the version of wins increase.
Using RTP, You can Convert Bonus Money into Cash
Most online casino bonus codes have the lowest playthrough requirements for slot players. However, you must still wager the bonus amount upon these slots more than once to withdraw your winnings. Your best possible chance of succeeding? Playing the highest RTP slots. Depending on the percentage, you will be confident that you will have some funds left at the end of the wagering requirements. It's not a sure thing, but it's a viable strategy.