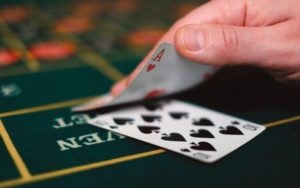 Knowing and mastering the Ultimate Blackjack Etiquette Guide, basic strategy, and all the playing choices, as well as many other minor rules and betting options, is one of the essential aspects of Blackjack.
When playing Blackjack in a casino, the etiquette guidelines revolve primarily around adhering to the game's rules, standard blackjack protocols, and basic logic conventions. Nonetheless, here's a list of what to do and what not to do when playing Blackjack at your favorite casino.
Pennsylvania Casinos with Online Blackjack
100% Deposit Match Up To $1,000 + $25 On The House
100% Up To $1,000 First Deposit Bonus + $20 on Sign Up
100% Deposit Match Up To $2,500 + 2,500 Reward Credits®
100% Deposit Match Up To $1,000 + 10 Bonus Spins
100% Deposit Match Up To $250
Blackjack Game
If one so desires, one can always play Blackjack online. The only issue is determining what to do to play Blackjack in a casino. The vast majority of online casinos offer live-dealer tables. It is a fantastic way to get closer to the fun of a real casino without leaving the convenience of your own home.
Still, there's something about live Blackjack that can't be replicated online. To fully enjoy your dining experience, proper blackjack casino table manners are required. You won't have to deal with the pressure of angry casino employees, and everyone's enjoyment will benefit.
Even if pit bosses and blackjack dealers are sympathetic to newcomers. They may begin to realize if you continue to make the same gambling etiquette mistakes, slowing down the game and upsetting other customers. To avoid this, read The Ultimate BlackJack Etiquette Guide and tips for improving your game.
Don't Give The Dealer Your Money
All cash transactions should be visible to the overhead online gambling security cameras. It is why you must place your money on the table's surface. The dealer will disperse the money and count it in front of the cameras, then slide you their equal amount in chips. So if you're sitting in on a game, wait until the present hand is finished before putting your money down.
Never Play Your Cards With Both Hands
If you're holding cards, remember you only use one hand. This rule is intended to prevent card switching. Players who use two hands can switch cards more quickly than players who only use one hand.
Never Take Your Cards Off The Table
Your cards must be constantly visible to security cameras and dealers.
When The Dealer Says "No More Bets," Never Touch Your Chips
You are not permitted to touch your chips after placing your bet, and the cards are now dealt with until the game is over. Only after you have won can you collect your chips; if you lose, the dealer will capture your chips.
Do Not Touch The Cards When They Are Dealt Face Up
Players receive both cards face up in the shoe-dealt version of Blackjack, while the house will then have one card face up and one card face down. The players may not touch the cards. Simply motion for another card to indicate a "hit" or "stand," or wave off the dealer when you're standing. Only the dealer can remove or relocate the cards and chips.
Don't Say Anything, Show It
Once playing Blackjack in Las Vegas, you must use hand signals to indicate if you want to stand or hit. Instead of saying "stand" or "hit," signal your choice to the dealer. Catching your decision on security cameras is everything. Don't be put off by all the hand gestures. The dealer will gladly show you the signals if you are new to the game. You won't have to play for long before you notice these gestures.

Joining a Blackjack Table Etiquette
Prompt casino blackjack etiquette begins before your first hand of 21. It all starts with picking a table and making a deposit.
How to Choose a Blackjack Table
Blackjack tables can only hold 6-7 players. Therefore, the table you would like to play at is frequently full. Topping your way into such a game if there aren't enough seats available is bad blackjack etiquette.
There may be times when there is an empty chair but no open betting position. It is because some players prefer to play two hands simultaneously. So it would be best to look for empty chairs first, followed by betting positions.
Some tables even have rules prohibiting you from sitting if they are in the centre of a shoe. If not, you'll want to sit and buy in after they finish with the current hand.
The dealer may greet you if you sit before the hand is finished. However, they will not exchange your cash for chips until they have completed the hand. Be patient; the dealer will reach out to you immediately.
Rules for Online Blackjack
By playing Blackjack online, you can avoid encounters with other players entirely. That is one of the numerous advantages of gambling online.
Most blackjack etiquette we've already discussed is irrelevant when playing online. The computer will manage your chips and cards, and there are usually no other people to engage with.
The only exception is playing live dealer blackjack. You should be aware of specific online blackjack etiquette guidelines.
Most importantly, just as you would when you were playing in person, remember to tip your dealer.
Furthermore, there is only one way to interact with other players and the dealer: the online chat feature. Make sure that your chat messages are both appropriate and respectful. When you don't get your way, there's no reason to disrespect the dealer or make offensive remarks in the chat.
Numerous live dealer blackjack tables, like those found in land-based casinos, have a restricted number of seats. The distinction is that online casinos allow an unlimited amount of players to use the bet behind feature.
Avoid using the chat feature to express an opinion on another player's play if you are betting on them. Instead, treat them the same manner you would if you were gambling against them in person.
Aside from that, no other blackjack etiquette rules apply to online games. If you don't want to confront the difficulties of etiquette, playing Blackjack online for real money is undoubtedly the most convenient option.