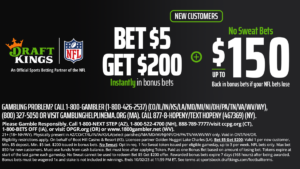 Are you ready to elevate your sports betting game? Look no further than DraftKings Sportsbook PA, where we're rolling out the red carpet for new customers with an incredible offer: Bet $5, Get $200 Instantly, plus the chance to earn up to $150 in No Sweat Bets. It's time to turn your sports predictions into winning opportunities like never before!
Bet $5, Get $200: Your Path to Instant Winnings
At DraftKings Sportsbook PA, we believe in making your sports betting journey memorable right from the start. That's why we're offering new customers an exclusive opportunity to Bet $5 and Get $200 Instantly. Here's how it works:
New Customers Only

: This offer is exclusively available to new customers. If you still need to join DraftKings Sportsbook PA, now is the perfect time!

Easy Entry

: To qualify, make a minimum deposit of $5 and place a minimum bet of $5.

$200 Bonus Bets

: Once you meet the requirements, you'll receive a whopping $200 in bonus bets, split into eight $25 bonus bets. Use them to bet on your favorite sports and aim for those big wins!
No Sweat: Elevate Your Game, Risk-Free
But that's not all! At DraftKings Sportsbook PA, we're all about enhancing your betting experience. That's why we're introducing the No Sweat feature, giving you a risk-free chance to earn even more. Here's what you need to know:
Opt-In Required

: To participate in No Sweat, simply opt-in. You'll receive one No Sweat token for each eligible gameday, with up to three tokens available per week.

Maximize Your Winnings

: New customers can place a maximum bet of $50 when using No Sweat tokens, and the best part is you must use funds from your cash balance, ensuring a no-risk opportunity.

Win Even When You Lose

: If your bet placed with a No Sweat token loses, don't sweat it! We'll reward you with a Bonus Bet based on the amount of your losing bet.

Time Is of the Essence

: Keep in mind that No Sweat tokens expire at the start of the last game each gameday, so make the most of them while you can. And remember, No Sweat cannot be used to redeem the Bet $5 Get $200 offer.

Bonus Bet Bonanza

: The Bonus Bets you earn through No Sweat are non-cashable but can be used to place more bets and aim for even bigger wins. They expire after 7 days (168 hours), so don't let them go to waste!
Act Now – Offer Ends 10/2/23
This extraordinary promotion won't last forever. You have until October 2, 2023, to seize the opportunity and experience the thrill of sports betting like never before with DraftKings Sportsbook PA. Don't miss your chance to Bet $5 and Get $200 Instantly, and take advantage of our No Sweat feature to maximize your winnings.
Join DraftKings Sportsbook PA today and kick off your winning streak with a betting experience that's second to none. Whether you're a seasoned bettor or new to the game, we've got something special for you. It's time to bet with confidence and turn your sports knowledge into cold, hard cash. Sign up now and start winning!