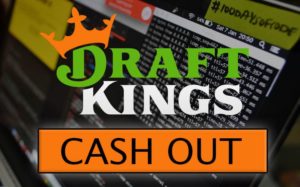 When it comes to gambling, particularly sports betting, cashing out has existed for a long time. DraftKings Sportsbook and other modern sports betting platforms have their cash-out feature. This review will look into a guide on DraftKings Cash Out.
Sports betting generates millions of dollars annually due to a controversy over anti-gambling laws. Although there are numerous fantasy sports sites online, two new businesses have sprung up to capitalize on the growing popularity of sports fans.
By launching short-term fantasy sports, both are devoted to those seeking a simple and quick method of joining fantasy leagues. DraftKings is one of them.
What Exactly is a Sportsbook Cash Out?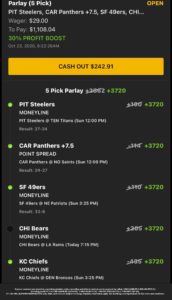 You can cash out using DraftKings Pennsylvania, DraftKings Illinois, or the latest DraftKings Ontario sportsbooks. But, first, we figured it would be beneficial to describe what a cash-out, also known as a Buy Out, entails for customers. It lets you settle a wager and accept a payout lesser than the maximum potential winnings well before the match ends. If you decide to take this route, the benefit is that you will be able to keep some profit despite how the score/event unfolds.
A sportsbook typically offers CashCash out, although an event is in progress before it concludes. As a result, Cash Outs can be regarded as a live in-play betting functionality. But even so, cashouts may be available during the season as well. For example, if you like to bet early, you might choose the futures wagers option. These bets could include a DraftKings NBA futures wager on the ultimate NBA champion or an NFL rookie of the year wager.
Take a glance at a DraftKings promotion that allows you to cash out. These may increase your profit while also locking in particular bonus money if the wager does not go your way.

What is the DraftKings Cash Out feature?
Users can narrow out their active bets using the Cash Out feature before the result of the sporting event is determined. The feature enables gamblers to cut their losses or perhaps even secure a portion of the winnings from a winning bet. Pre-game, live, future, and parlay bets can all be cashed out. For example, suppose you wager on a soccer team to win a match, and it appears the team will lose. In that case, you can cash out slightly earlier and earn partial rewards rather than losing the entire bet.
You can also use this feature if you're about to start losing a bet and want to lower the amount you lose compared to the total loss amount. Not all DraftKings bets are qualified for cashing out, so you'll need to double-check. In many cases, if the game is about to end and you're losing the bet, you won't be capable of cashing out.
Individuals who qualify for CashCash out can go to the "My Bets" section of DraftKings' app or website and select the yellow "Cash Out" button. If a payout is available, it will be deposited further into the bettor's account immediately when cashing out. If the yellow button turns gray, such a feature is no longer accessible.
Cashing out is most familiar with a parlay bet, which refers to a group of multiple bets in which you must win all bets to receive the total payout. However, if one of the bets does not go your way, you might be able to utilize the Cash Out feature to take home a portion of your winnings.
What Does DraftKings Cash Out Suspended Mean?
On DraftKings, Cash Out Suspended means that you are currently still unable to cash out your wager early.
You can usually Cash Out any gamble you have previously placed on DraftKings Sportsbook. The amount you can cash out will vary depending on the outcomes of a game as they occur.
Because players can use Cash Out to hedge their bet, having it suspended can be upsetting for those looking to exit a bet.
Why is DraftKings Suspending Cash Out Wagers?
DraftKings Sportsbook has a large amount of ground to cover. There are games ongoing at any given time, and DraftKings usually has a variety of live odds or props.
DraftKings will occasionally disable the Cash Out option to cover their bases. It reduces their potential exposure, especially while the game is in progress. After all, DK is in the business of generating revenue.
For example, suppose you gamble on the Chicago Cubs Moneyline, and an umpire reviews a potential game-winning home run. DraftKings may suspend the Cash Out Bet choice to prevent someone from cashing out if the call on the field is overturned.
DraftKings also may suspend CashCash Out bets at any time during a game. However, many live betting models struggle to handle some late-game behavior. DK is likely attempting to minimize its exposure to any pricing quirks.
Why Should You Cash Out Your Bet Money on DraftKings?
When you choose to cash out earlier than usual, you enable two things to occur that will gain you. The first advantage is that you can safeguard your winnings without taking the risk of letting a bet run until about the end of the sports game. The second advantage is the ability to cut your losses if the bet appears to be having difficulties and things are not going well. It's similar to losing a bet. You are not selecting to cancel bets on DraftKings, instead opting to take something less than the total payout.
Cashouts are a two-way street between players and sportsbooks. As previously stated, if you cash out a winning bet to gain a profit, the profit will be smaller than the total amount. It is the information provided by the player to the gambling website. The player benefits from less risk and the ability to lock in revenue.
Cashing out of a wager can also be beneficial for losses. You will lose less than the highest amount if you cash out, allowing you to break your losses. If a bet has gone wrong and you don't think you have a possibility of winning, deciding to cash out can reduce your loss to a smaller amount.
How is a Cash Out Determined?
Cashouts are computed similarly that odds on any form of wager are calculated at a sportsbook. The sportsbook will know a price based on several factors and provides it to the bettor. When it comes to cashouts, the price is determined by the betting site as the present value of the gamble.
Live betting is rapidly expanding in the US gambling industry. With it, online sportsbooks' in-play betting odds are becoming more efficient. Likewise, betting sites are becoming more efficient in setting CashCash Out prices.
With point spread and Moneyline bets, determining the value of a bet is simple. However, more advanced gambles, including such parlays and futures, can make things a little more complicated. Regarding futures bets, there is usually a long period left, and a lot could happen during that moment. Parlays must have many legs remaining, making it difficult for a user to decide whether or not to take the Cash Out option.
Sites such as DraftKings will calculate CashCash out odds using a variety of real-time odds and risk removal based on the initial wager amount.