The DraftKings sportsbook promo code offers a $1,050 bonus as a new user. When you use our DraftKings Sportsbook PA links, you immediately get the promo code, which is available to all new users in legal states. Both the DraftKings and the CasinoWatch PA staff have checked this offer. Tap here or on any banners to get the $1,050 DraftKings bonus.
The first deposit match bonus of up to $1,000 is the best sign-up bonus for new users at DraftKings PA sportsbook. However, this deal won't last forever, so take advantage of it as soon as possible. Additionally, please keep track of when it ends and how many times you have to play through it. Finally, ensure you know about the DraftKings new user promo terms and conditions before signing up.
DraftKings Sportsbook Promo Code for December 2023

DraftKings has a special offer for new players worth up to $1,050. This offer does not require a DraftKings PA promo code. So take part on DraftKings here and get a free $50 bet when you deposit at least $5. You could also get a DraftKings deposit bonus of 20% to $1,000 on your first cash-in.
The DraftKings sign up bonus has two parts, and both need an initial deposit to start. First, if you deposit at least $5, you can get a $50 DraftKings risk free bet. Then, after you put money into your account, you'll get a $50 credit that you can use to bet. You can't get the credit back, but you can keep any money you win.
As part of the DraftKings promotions, your first deposit will be matched by 20%, up to a maximum of $1,000. To get a $1,000 bonus, you would have to put in $5,000. You could also start with less, like $100. If you did, the corresponding bonus would be $20. For every $25 you play on the DraftKings sportsbook PA app, you can withdraw an extra $1 of bonus money.
As more states make sports betting legal, DraftKings sportsbook is one of the best places to do it. Many states, like Illinois, Michigan, Iowa, Wyoming, Arizona, Louisiana, Virginia, Tennessee, New York, New Jersey, Indiana, West Virginia, Colorado, and Pennsylvania, have the DraftKings mobile platform.
When sports betting became legal in New Jersey in 2018, DraftKings was already on top of it. That year, the company released DraftKings Sportsbook, which has since become one of the most popular sites. Sports bettors like both the mobile app and the website. Hundreds of bets can be made, including bets before the game, bets on the future, and bets during the game.
Other DraftKings Sportsbook Promos and Bonuses
In the world of sports betting, which is very competitive, businesses are always searching for innovative ways to maintain their customers' happiness. To do this, DraftKings offers odds promotions on different markets that change over time.
When you tell a friend about DraftKings, you get a free $100 bet. Your friend must sign up by clicking on your referral link to qualify. Then, when the friend puts in at least $5, the $100 is free to play with.
DraftKings Rewards Program
DraftKings does not have a loyalty program right now. But depending on the casinos and sportsbooks that become partners in the future, it's likely that a rewards program would include bets made through DraftKings.
Creating Your DraftKings Sportsbook Account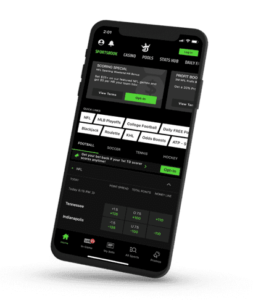 Signing up for DraftKings is like signing up for other legal online sportsbooks. It only takes a few minutes to finish and will ask for basic information like your name and birth date. Then, when you click on one of the DraftKings sign up promo code links on this page, you'll go to a new page with a green "sign me up" button.
As said, it's not unusual. Still, DraftKings Sportsbook will check your age and identity as part of the process. If there are any problems, you will have to show proof.
The last four steps are downloading a plug-in that tracks your location or turning on geolocation tracking on your phone. This is how DraftKings can ensure you are in the right place when you place a bet. Of course, your bets won't go through if you're not in a state where sports gambling is legal.
With your first tap to make your account, it shouldn't take more than a few minutes. As soon as you log in, you can check out everything DraftKings has to provide and make your first deposit to get the bonus.

Placing a Bet on DraftKings Sportsbook
DraftKings Sportsbook makes it easy to place bets. Initially, you can look for the event you want to bet on DraftKings Sports. Sports like baseball, football, basketball, and more fall into these groups. Then, within these groups, there are pro leagues and college leagues. Once you locate the match, you can press on it to see all the possible bets for that game.
If you like a bet, you can easily add it to your bet slip by clicking on it. You can put as many bets on your bet slip as you want. Then, you will easily place the bet on the bet slip.
You can put the amount of money you want to bet on your bet slip, and DraftKings will display how much you are likely to win based on that amount. Then, you can click "place bet" to send the bet if everything looks correct. That's it. Your bet has been made. Under "My Bets" on DraftKings, you can locate all the bet slips you've made. If you keep an eye on your DraftKings Sportsbook bet slips, you may be able to deposit out a bet sooner if you want to.
DraftKings Promo Code Sportsbook FAQs
What is the promo code for DraftKings Sportsbook?
Click on our DraftKings promo code 2023 links which you will find on this page, to qualify for the new player's bonuses.
Do you need a promo code for DraftKings?
You will not need a reward or coupon code to be eligible. To get your DraftKings deal, click on the links provided on this page. DraftKings was one of the US's first sportsbooks you could do legally online. Since then, the industry as a whole has grown by leaps and bounds, and the DraftKings sports wagering app is one of the ones that has helped lead the way.
What is the promo code for DraftKings casino?
You can visit our DraftKings Casino PA review and register for a new player's account. After verifying your account, the bonuses will automatically be credited to your account.
How do I get my free 100 on DraftKings?
A profit boost at DraftKings adds to the actual profits you would end up making if the outcome goes your way. The amount of the profit boost depends on how much you bet. With a profit boost token, you can increase the amount of money you could make from a particular outcome.