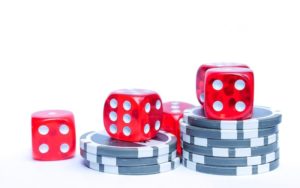 Craps was introduced to Pennsylvania casinos more than ten years ago, following the installation of table games. This exciting dice game is available at all 12 live casinos in Pennsylvania. You may also play craps online. As of July 2019, there have been licensed PA online casinos where you may practice craps for free or play for real money. There are currently no authorized online craps games, although online casinos are constantly adding new titles.
Craps online have long had a sense of exclusivity and have drawn enormous audiences at land-based casinos. The Craps are now easier to access than ever before, thanks to the emergence of online casinos, and it is beginning to have a more general appeal.
Craps can appear complicated to inexperienced players, with two rounds each with separate wagers, as well as numerous side bets. Playing the game for small amounts online is an excellent method to become acquainted with the table layout, and craps rules prior to visiting a live casino.
This article contains more than just craps, bets, and rules. All of the details you need to get started with playing craps online in Pennsylvania are provided here. We go through how to play for free, for real money (including banking tips), and what laws regulate the game.
100% Deposit Match Up To $1,000 + $25 On The House
100% Up To $1,000 First Deposit Bonus + $20 on Sign Up
100% Deposit Match Up To $1,250 + 2500 Reward Credits®
100% Deposit Match Up To $1,000 + 10 Bonus Spins
100% Deposit Match Up To $250
Craps for Real Money Online
Real Money Craps in Pennsylvania although going on an extended streak in demo mode can be amusing, it lacks the exhilaration of playing with real money. If you are familiar with the rules, skipping the free games and going straight to the real-money craps tables will put you right in the middle of the action.
There is only one craps game available in legal Pennsylvania online casinos. These have slight visual alterations, but they are fundamentally the same game. You can choose which elements determine the real money craps game to play.
It is critical to consider the bonus offers along with how each casino weighs betting contributions for craps. See down for more information.
Other games you like to play, deposit alternatives, and continuous prizes are all considerations. For a summary of the best brands, visit our extensive PA online casino reviews area.
Is it Legal to Play Craps in Pennsylvania?
Craps, like card games and roulette, is regulated as a casino table game. As an amendment to the 2004 laws that controlled casinos, these became legal in 2010. To legally play craps, you must be at least 21 years old.
You can also legally play craps online. In 2017, Bill H 271 was introduced to regulate Internet casinos. The first PA casinos did not open until the summer of 2019. Craps is offered in player-versus-software mode. However, it is not featured in live dealer casinos or casino apps.
In Pennsylvania, You Can Play Craps for Free
Craps games are accessible in the demo (play-money) form at online casinos. It allows you to familiarize yourself with the various phases of the game, including the betting possibilities available inside each before you begin playing.
The individual casino will choose whether you must create a gambling account to play the demo games or if you are able to play them as a guest. Because each session is a one-time game, the casinos will not recall your victories or losses in play chips.
Like real craps, PA regulations dictate that 3-4-5x odds are utilized during the "point round," which results in varying multiples of your "pass line" wager for the inside to outer points.
Online Craps Games
Online craps, like blackjack and roulette, have numerous versions to pick from, adding to the pleasure and excitement of playing the game. Try them entirely for free, and after you've found the one that's right for you, play for real money for a chance to win.
Bank Craps

High Point Craps

Simplified Craps

Die Rich Craps

New York Craps

Low Limit Craps

High Limit Craps

Scarney Craps
Craps for Real Money vs. Craps for Free
Craps, like blackjack and roulette, are an excellent starting place for those new to casino table games. While many players look to blackjack and roulette as the basis of table games and shun craps, it is a beautiful alternative for learning the game and working on strategy and betting kinds, to mention a few.
Playing online craps for free removes all of the game's fear and intimidation, providing players with a completely safe atmosphere in which to play and learn. It enables you to play around with pass and no pass bets, as well as single roll bets and other wagers, without putting any money at risk. It relieves stress, boosts confidence, and renders it more enjoyable.
Once you've learned everything there is to know about online craps, going on to the online craps real money edition will enable you to walk away with some substantial payouts potentially. The minimum bets are substantially smaller when playing online craps for real money than when playing live. In other words, when you eventually progress to the real money version of online craps, you will be paying a lot less.