To improve your probability of winning at craps, you must first understand which bets always have the best Craps odds and the amount they pay out. Then, use our craps payout chart and craps bets odds guide to see how much you can win when playing your next online game.
Here is a rundown of Craps odds and approach to keep in mind once playing.
Best PA Online Casinos 2023
100% Deposit Match Up To $1,000 + $25 On The House
100% Up To $1,000 First Deposit Bonus + $20 on Sign Up
100% Deposit Match Up To $1,250 + 2500 Reward Credits®
100% Deposit Match Up To $1,000 + 10 Bonus Spins
100% Deposit Match Up To $250
What is a Craps Game?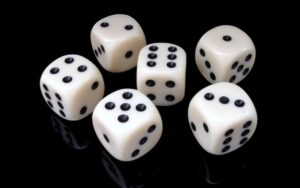 Craps is considered one of the most entertaining casino games. So it's no surprise that it's made its way toward the best online gambling sites and is as exciting as the version seen in TV shows and Hollywood films.
Craps, on the other hand, can be intimidating to newcomers. When you play online, it is a little less complicated than when you play live, but the game's concept remains the same.
We wish to dive a little deeper into the odds for every one of the bets available at the craps table. There exists a craps odds technique that you can use, but you must know precisely what you're doing.
Before we begin, it's worth remembering that craps are considered one of the most user-friendly casino games. In addition, it has one of the lowest house edges of any casino game.
Understanding the Odds of Craps
Craps, perhaps even more than any other gambling game, is careful with the odds. At the very bare minimum, when you play, you should be.
In other words, knowing the odds is critical to understanding craps, and you won't be capable of winning any game until you fully comprehend it. That means knowing the odds of each roll of the dice, the true odds of each bet, and the odds each wager pays out.
Continue reading for a comprehensive look at craps and the odds associated, including the odds on the outcome of each roll, as well as information on every available bet, the accurate odds, payout, and house edge.
Guide on How to Play Craps PA
Before delving into the odds, you must possess a basic understanding of how to play craps.
Craps betting, whether it happens to be in BetMGM online casino, begins with bets on the Pass Line and Don't Pass Line. The first shooter then rolls the dice for the come-out roll.

You can earn Pass Line bets by 1:1, and Don't Pass Line bets lose if somehow the shooter rolls 7 or 11 on the come-out roll.

If the shooter rolls 2 or 3 and a 12 on the come-out roll, Don't Pass Line bets are paid 1:1. Pass Line bets end up losing on any two, three, or twelve. The shooter craps out, a new shooter is selected, and the game starts over.

If the come-out roll produces some other number, the said number will become the point.

Once a point is established, the shooter rolls out until they hit the point or roll a 7 to crap out.
What is the Craps Payout Odds?
Craps payout odds can vary from 30:1 to 1:1, depending on the true odds of a wager and the house edge.
The actual odds are the chances of winning a specific bet. For instance, if the true odds are present as 2 to 1, this means that for every win, you should expect to lose twice.
Meanwhile, the house edge is the distinction between the true odds of a wager paying out and the actual odds paid to the winner by the casino. The player benefits from a lower house edge.
One of the primary betting ways to boost winnings in craps is to lessen the house edge to the greatest extent possible. Unfortunately, the house edge on some bets can be as high as 16.9%, resulting in a significant loss throughout a craps session.
House Edge
Casinos use the house edge to evaluate what percentage of first bets from players they can anticipate earning over time. Players can determine the house edge using craps rules to guarantee that the casino can help offset its losses even when players win big.
Craps offers one of the lowest house edges of any casino table game. Sic Bo, an Asian dice game, has a house edge of up to 33.3% on some bets.
As an illustration, the true odds of settling a 7 in a craps game are 5 to 1. It means that if a player gambles $10 and wins, they should receive $50.
Due to its house edge, the payout odds of landing a 7 are 4 to 1, and the player will obtain $40 for their winning bet.
Craps Odds Betting Strategy
Many Craps strategies, usable in various casinos like Borgata casino PA,  strongly advise concentrating your bets on the most common Craps bets made in every round:
Pass line

Come

Don't pass

Don't come bets
These have house edges and thus expected returns that you can only surpass by Odds wagers in the rest of the game.
Don't pass and Don't come bets are marginally more advantageous. It has a house edge of 1.36% versus 1.41% for Pass line and Come bets. It is along with a 50.71% approximate odds of winning or pushing your bet versus 49.29% for the Pass line and Come bets.
If the round reaches the point step, it is always a good idea to support any of these stakes with Odds bets. Even though the win odds may appear unappealing, they pay at true odds. It genuinely assists in lowering the house edge, which is why many casinos have restrictive maximum limits on Odds bets.
Final Word
You'll notice that the variety of bets available in craps is wide. Unfortunately, the odds for each bet can also be quite intimidating, especially if you are a beginner.
However, it does not require you to understand the odds designated to each bet. Instead, you can gradually incorporate them into a safe craps strategy. Gradually increase the number of bets as you gain confidence.