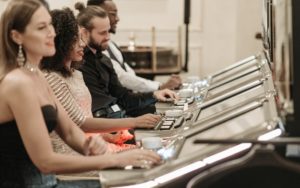 For years, casino executives have promised that the slots in Atlantic City were one of the loosest in the world. Given the popularity of these Best Slot Machines in Atlantic City, it stands to reason that New Jersey casinos might well boast about their payouts to lure players away from America's gambling mecca, Las Vegas.
Ranking the current best slots venues is difficult, but that is precisely what I'll be doing in this post. Top slot casinos were chosen based on the following factors: the number of games, average RTP, comps, and general casino quality.
Identifying the best casinos in Atlantic City for slots would be enough. The goal is to assist those of you who want to play slots. Here are my top recommendations.
100% Deposit Match Up To $1,000 + $25 On The House
100% Up To $1,000 First Deposit Bonus + $20 on Sign Up
100% Deposit Match Up To $2,500 + 2,500 Reward Credits®
100% Deposit Match Up To $1,000 + 10 Bonus Spins
100% Deposit Match Up To $250
Top Atlantic City Slot Machines
Several AC casinos have over 2,000 slot machines on their casino floors, giving players many options. However, knowing where and how to begin your adventure can be challenging. But, if you have a title in thought, you can use the operator's Slot Finder AC list to locate the most suitable casino in Atlantic City NJ.
These are some popular titles to get you started if you're beginning your gaming journey.
Cleopatra Gold

: Established by IGT, Cleopatra Gold transports players to ancient Egypt. With various features such as gold spins, free games, respins, wilds, and win multipliers, this slot has plenty of action from start to finish.

88 Fortunes

: This is another progressive slot popular on the Boardwalk in Atlantic City. 88 Fortunes is a 5-reel slot with 234 chances for winning. It offers ten free games and a 4-level progressive feature with potentially massive payouts.

Wheel of Fortune: If you're looking for the best odds at Borgata slots, Wheel of Fortune should be on your list. The most recent installment of this classic series is named 'Wheel of Fortune Dazzling Gems.' This game is distinguished by its lucrative virtual wheel feature, which allows players to win additional credits, in-game free spins, or even one of fifteen progressive jackpots.

Ghostbusters 4D:

 It is not only a licensed game but also jam-packed with new features and functionalities. Yes, it has a progressive jackpot that is extremely popular in AC. It also has a fancy top-quality cabinet that allows players to interact using gestures rather than touching the screen. These gestures are also used in the entertaining mini-games and rewards features.

IGT's Red White & Blue:

 This is a standard three-reel, single-payline classic slot game with very few frills. You can bet one to three credits for every spin. At maximum bet, the top two prizes are 10,000 and 5,000 credits. That's a decent payday without even needing to use your brain.
These slots were chosen because they are available in Atlantic City casinos. They're all popular slots at Borgata, Bally's AC, and Caesars Palace.
What Exactly is RTP?
Before providing insight into Atlantic City slot machine payouts, it's essential to understand what RTP is and why it's crucial to consider when deciding which game to play. RTP is an abbreviation for 'Return To Player.' It is the total amount of money paid out by the game over endless sessions.
For instance, if a slot machine has an RTP of 92%, the average payout is $92 for every $100 gambled. Of course, this is simply a rough estimate. For example, a player could probably have spent $300 on a slot machine and only win $50. The next player, on the other hand, might win a $100,000 jackpot with their first spin.
To get excellent odds in Atlantic City, look for games with said highest RTPs – these are referred to as 'loose slots.' The RTP does not depend on the bet size or the jackpot. You can play penny slots in Atlantic City or a $25 slot machine; the payout is proportional to your stake.
While the jackpot amount is unrelated to the RTP, it is certainly something to consider when selecting the best slot machines in Atlantic City. For example, a slot may have a low RTP but a massive potential jackpot compared to a slot with something like a high RTP but a minor jackpot.
Best Slot Machine Payouts in Atlantic City
The state of New Jersey does not need casinos in Atlantic City to report financial data on specific machines. These casinos are not even obligated to disclose hold percentages by denomination, as is required in Nevada and a few other US states.
That means I can't tell you which slot has the highest average RTP and why you should come running to it and start chasing jackpots till the Boardwalk calls you to the beach. So the only information we have on Atlantic City slots is a rundown of the average RTP by the casino.
The average slot game win ratio in Atlantic City in 2021, broken down by casino, is shown below. This data comes from the New Jersey Division of Gaming Enforcement's Monthly Gross Revenue Reports page.
AC video poker machines and just about any other electronic games, including such video keno, are also included in these figures.
READ MORE: Wheel of Fortune Casino Review
Jackpots in Atlantic City
New Jersey Division of Gaming Enforcement (NJDGE) publishes a list of Atlantic City slot winners in land-based and online casinos. A quick internet search will yield its 'Jackpot Publication.'
The NJDGE listed 282 jackpot winners between January 1st, 2021, and March 31st, 2021, with a maximum payout of $25.6 million on all these 282 wins alone. A jackpot win is any quantity of $50,000 or more.
Nine out of ten of the best payouts have occurred online. The Borgata, Atlantic City's most popular casino, will be the only physical venue to join in the top ten.
Play Real Money Slots Online
Suppose you love playing slot machines but cannot visit Atlantic City regularly. In that case, I recommend that you play on the online platform. Numerous legitimate online slot casinos offer a diverse selection of titles with massive jackpots and entertaining extra features.
They also provide hundreds of exciting games, incredible bonuses, and numerous other benefits. The stakes acknowledged are extremely low, so that you can begin with a deposit of $10-20.
Final Word
Thousands of games are available in Atlantic City casinos. It has the potential to be intimidating. Finding the finest slots in Atlantic City entails trying out various games until you find something you enjoy.
For this post, I attempted to compile a selection of slot games that would demonstrate what slots gamblers in Atlantic City seem to enjoy the most. AC's casinos compete fiercely for customers, with rivals frequently located directly across the street. A large part of that competition is cramming the most popular slots onto the city's gaming floors.