Since PA gambling sites offer a variety of virtual table games, video poker, and other games, PA online slots machines are unquestionably the most popular. There are 25,760 slot machines available at the 12 live casinos in Pennsylvania. In addition, classics to the most recent multimedia specials are available.
This page will tell you everything you need to know about playing online slot machines in the Keystone State.
Tips as to how to play free, as well as real money slot games, are provided below. We also go over the different types of slots, including those with progressive jackpots, and how to get them.
Best Free PA Online Slots
100% Deposit Match Up To $1,000 + $25 On The House
100% Up To $1,000 First Deposit Bonus + $20 on Sign Up
100% Deposit Match Up To $1,250 + 2500 Reward Credits®
100% Deposit Match Up To $1,000 + 10 Bonus Spins
100% Deposit Match Up To $250
Since the passage of the casino bill in 2004, slot machines have already been legal in live casinos in Pennsylvania.
There are 25,760 slot machines available at the 12 live casinos in Pennsylvania online casinos slots. In addition, classics to the most recent multimedia specials are available.
Online Pennsylvania slots are now competing with live slot games. You can now gamble at licensed online casinos. In addition, hundreds of live slot titles are available online, and exciting games are designed specifically for slot machine online apps and websites.
Is PA Slots Online Legal in Pennsylvania?
Online Free Slot machines are entirely legal in Pennsylvania-licensed casinos. There are currently 12 casinos and racetracks in the state, with a 13th on the way.
These games are open to anyone over 21 who is not presently on Pennsylvania's gambling self-exclusion list.
Online slots in PA are also permitted. Gov. Tom Wolf signed bill H 271 into law in October 2017. It paved the way for the licensing of online casinos in Pennsylvania.
Category 1-3 casinos could get a slot machine online real money license for $4 million or as part of a three-license package for $10 million. In July, the first online casinos with free online slot machines appeared.
Free Online Slots PA
The best part about the state's online casino launch is that you can play Pennsylvania online slots for free. That's right. You can enjoy your favorite online slots without putting your money at risk.
Most PA online casinos provide two options for playing slots for free.
The first option is demo mode. Most slots will have a demo mode that allows you to play for free, test out a slot, and play through all of the standard features, including free spin bonuses and fun free games.
Playing slots in demo mode will not net you any real money. However, you will see everything the game provides and decide if it is for you.
How Do Real Money Slots Work In Pennsylvania?
Many regulated online casinos provide real money bonuses and additional promotions through our exclusive promo codes, all without needing a deposit.
It is an excellent opportunity to try your luck at winning money without putting your bankroll at risk. These are smaller offers, ranging from $10 to $25. Before withdrawing your bonus, you must wager it and fulfill the play-through requirements.
While no-deposit slot bonuses allow you to try out different casinos, matched deposit bonuses are much more significant. These are generally 100% matches on your initial deposit.
Again, it would help if you played through the bonuses before they were credited to your real money account. The number of times players must wager each bonus varies greatly between casinos.
Transitioning to real-money slots has numerous advantages, including competing for progressive jackpots.
These jackpots range from very few thousand dollars to life-changing amounts of more than a million dollars. There are numerous other ways to win big through-line hits and bonus games. To play online slots real money Pennsylvania provides excitement that "fun play" does not.
PA Mobile Slots
Almost all your favorite online slots will work fine if you play slots online Pennsylvania on an app. There may be a smaller selection of slots than on an online casino's website, but you're sure to find some of your favorites. Some may have been specifically designed for mobile use.
You can always try out the free casino slots online you want to play in demo mode to ensure they work properly with the app. Follow our link to the gambling site on your mobile phone and download the Android, iPhone, and iPad app.
Then, using the PA online casino app, play many more slots as you want like free video slots. Mobile play can help you meet the wagering requirements in both no deposit and matched deposit bonuses at PA casino sites.
At the present time, only Android users can access play slots for free apps, but you can play slots on both Apple and Android phones via responsive websites. The casino websites will adapt to the size of your screen and set of inputs automatically.
Whereas most slots work fine, especially when your phone is in landscape mode, a few play games slots are poorly adapted. You can try the best free online slots out in demo mode first to make sure real money slot machines work properly before actually putting money on the line.
If you have an Android phone and still want to download the app, you must first go to the casino's website. Casino apps are now available in the Google Play store. You must click through the "unknown source" message that shows up for every app that was not downloaded from the app store.
Users of iPhone and iPad will have to wait for dedicated apps from PA slot casinos. Apple recently changed the demand for various gambling apps in the App Store. In the meantime, the best free slots responsive websites are compatible with iOS devices.
Slots With Progressive Jackpots
Online casinos may have hundreds of standard slots. There will always be a few unique jackpot games with the best slot games potential for a massive payout.
While a few unique games, such as Colossus Frac/Pot, are considered jackpot games due to special reward win conditions, most jackpot slots are progressive games. A special bonus prize in these values increases slightly each time somebody else plays without winning.
This grand prize grows in size over time, becoming a very attractive draw for the game. Some progressive slots are self-contained and generate their jackpot. Still, many online casinos will have a group of progressive slots that all exchange the same jackpot prize. Progressive jackpots can also be linked between different partnered casinos' versions of the same best free online casino slot games.
Slots Loyalty Reward Schemes and Bonuses
Loyalty programs are available at both live and online casinos. Enrolling in these free online slots with bonus schemes can provide significant benefits if you enjoy playing slots. In other words, failing to take advantage of these bonuses is a waste of money.
Before you play real money slot machines, live casinos will give you cards that you can insert into the slots on the machines. It makes no difference whether you win or lose in terms of the number of points you accumulate.
Depending on the casino, you can redeem points in various ways. For example, some casinos offer free play bonuses that allow you to use your points to book hotel rooms at resorts across the country.
Many casinos also offer free online slots machines special promotions to help you earn points quickly on specific games or at specific times.
As with most land-based casino loyalty programs, online casino loyalty programs are practically designed for slot players. So it is since slot play is one of the quickest and easiest ways to clear rewards and earn loyalty points on.
Pennsylvania Slot Machine Regulations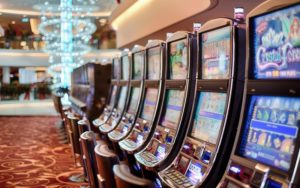 Slot machines are legal in Pennsylvania's licensed casinos. They have been a part of the state's legal online casino scene since its inception. Indeed, the state's initial casino legislation, passed in 2004, allowed racetracks, new stand-alone casinos, and resort casinos to only run real cash slots, making them the only legal casino games in town.
Pennsylvania's first casino slots opened in 2006, generating over $1 billion in slot revenue in the first year. Then, of course, these operators were permitted to launch table games in 2010. Still, slot machines continue to win gambling floors and betting revenue reports throughout the state.
There were tight to 25,000 free slot machines online operating at the state's casinos in 2019.
PA Online Slots FAQs
Can you win money playing online slots?
You can do so beginning July 15, 2019, at a wide range of licensed PA online casinos. However, playing for real money on any other casino site is illegal, and you may have difficulty receiving any winnings.
Is it legal to play slot machines online?
Pennsylvania's casino expansion laws passed in 2017 made it legal for licensed operators to provide online slots to state residents. The Pennsylvania Gaming Control Board, on July 15, 2019, made the casinos' official opening and the start of legal online slot play.
Can You Play Slots On Your Phone?
New casino slots developers understand the importance of making their games compatible with mobile iOS and Android devices. Many of their cash slots games titles are now available for play on the go. Some design changes are required for smaller screens. Still, the overall experience is similar to playing the entire game on a desktop computer.