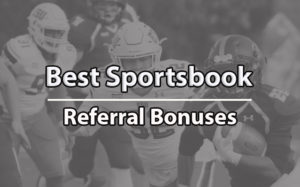 Have you got a friend you believe would enjoy your top online sportsbook? Then, rather than recommending the site for free, you can receive the Best Sportsbook Referral Bonuses by giving others the referral link.
That is what referral bonuses are. Online sportsbooks are businesses that want to draw as many gamblers as possible; that's why they incentivize you to bring in your friends who could be long-term customers.
Referral bonuses have different terms and conditions than regular bonuses. As a result, we'll highlight a few key considerations and show users the sportsbooks with the finest referral bonuses.
Up to $1,500 Paid Back in Bonus Bets
Your First Bet Is On Caesars Up To $1,000
Second Chance Bet up to $500
2nd Chance Free Bet Up To $500
10 x $100 Second Chance Bets
What Is a Referral Bonus at a Sportsbook?
Referral bonuses are popular in various online industries, including sports betting. However, regardless of never using a referral link, you know how referral systems work.
A sportsbook referral bonus works like any other referral program: refer a friend to a site where you have an account, and the sportsbook will reimburse you with a bonus.
The general rule with many of these refer-a-friend programs is that the person you've referred must either make a deposit or bet a certain amount; some sportsbooks may require the referee to do both.
When they do, you will be rewarded with a betting site or a bonus inside the type of site credit.
The top online sportsbooks frequently reward both the referrer and the referee.
What Should You Look For When Selecting Betting Referral Bonuses?
Because referral bonuses are unique, you'll have to keep a few things in mind, especially if you want to get the best deal possible.
Listed below are some things to think about when selecting an online bonus:
The amount of money that the referee must deposit or wager 
You want to avoid overloading your friend by pressuring them to deposit and place a bet on a large sum, especially if you don't know how much money they have in their bankroll.
Because your primary goal is to receive a bonus after your friend signs up, always choose refer-a-friend programs which do not require massive amounts from the individual you're referring.
The person receiving the bonus 
The best online sportsbooks reward both the referrer and the referee. Because they will also receive a reward from the sportsbook, your friend will feel more inspired to sign up utilizing your link and deposit the required amount.
Time limits
Prevent bonuses that grant your friend less than seven days to deposit money and gamble. Remember that because referral bonuses require you to interact with another person, you should give them as much time as possible to develop educated financial choices, particularly for those new to sports gambling.
Best Referral Bonus for Sportsbooks
If you're looking for referral bonuses, here seem to be a few locations that prioritize them:
PA BETTING SITE
WELCOME BONUS
BetMGM Sportsbook
$1,000 Risk-Free Bet
DraftKings Sportsbook
$1,000 Deposit Bonus
Unibet Sportsbook
$500 Risk-Free Bet
PointsBet Sportsbook
4 x $200 Risk Free Bets
FOX Bet Sportsbook
$50 Risk-Free Bet
BetRivers Sportsbook
$500 2nd Chance Bet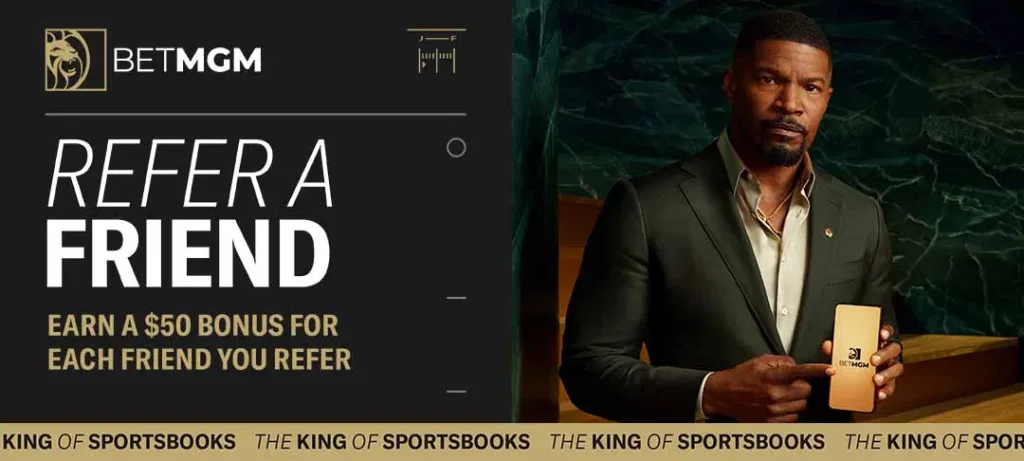 Referral Bonuses and How They Work
Referral bonuses are sometimes given to registered gamblers and referees when an unlicensed bettor utilizes their referral link to join the site.
To obtain a referral link, go to the promotions page. Then, scroll down until you find the accessible refer-a-friend offer.
Click this promotion to create your referral link, which you can share with anyone you want to welcome to the site.
This promotion is not available to all registered bettors. Therefore, it would be best to enlist for a specific time frame before sending a referral link.
Some sportsbooks also require you to have deposited or wagered a certain quantity in bets before referring friends to the site.
The Benefits of Referral Bonuses
Here are some of the benefits of referral bonuses:
You are rewarded simply for forwarding a link to your friends.

You and your friends may both receive a bonus in certain refer-a-friend offers.

You don't have to take any risks if you're the referrer.
The Drawbacks of Referral Bonuses
Whereas the referral bonuses can indeed be hugely helpful, there are a few drawbacks to refer-a-friend programs:
If you are the referrer, whether or not you receive a bonus depends entirely on the other person's betting activity, which is beyond your control.

When you send registration links to friends, you may irritate them.

Most refer-a-friend bonuses are low, with only a few sportsbooks offering more than $50.
Where Can I Get Sportsbook Referral Bonuses?
A referral bonus can be obtained in two ways:
As a registered bettor, you can send a referral link.

By signing up through a referral link, both the referrer and also the referee are rewarded.
We've already explained how to get this bonus if you're a registered member. However, if you are new to a site and want to receive this bonus, you must first obtain a referral link from such an existing user.
Whereas if the sportsbook in question rewards both the referrer and the referee, you'll receive a bonus if you register using their link.
What are some of the Best Referral Programs for Current Users?
In contrast to other rewards, most refer-a-friend programs prefer existing clients over new bettors.
Suppose you're seeking the most excellent referral bonus. In that case, PointsBet and DraftKings excel due to the referrer. Also, the referee can receive a $100 bonus from both sportsbooks.