The NFL plans to go all-in on the gaming industry. The NFL and Aristocrat Gaming, a slot machine and gambling game developer have collaborated to create NFL-themed slot machines within casinos.
Are these NFL-themed slot games going to be available at Pennsylvania casinos? The short answer is yes, and casinos must seek approval from the Pennsylvania Gaming Control Board (PGCB).
Players will be able to Play NFL Slots at Pennsylvania Casinos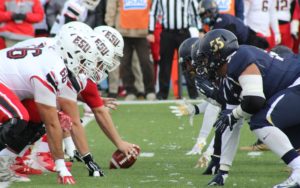 Aristocrat Gaming slots are installed in many Pennsylvania casinos. Aristocrat slots are available at both Rivers Casino sites in Philadelphia and Pittsburgh, according to Casinowatchpa.com.
100% Deposit Match Up To $1,000 + $25 On The House
100% Up To $1,000 First Deposit Bonus + $20 on Sign Up
100% Deposit Match Up To $1,250 + 2500 Reward Credits®
100% Deposit Match Up To $1,000 + 10 Bonus Spins
100% Deposit Match Up To $250
Rivers Casino Pittsburgh and Philadelphia's Jack Horner stated:
"Aristocrat games are available at Rivers Casinos in Pittsburgh and Philadelphia." The new NFL-themed slots will be added to the casino floors at both Rivers Casinos in Pennsylvania, subject to approval and delivery."
Valley Forge Casino is getting three NFL slot machines for their location. According to the casino's public relations team, Aristocrat will be in charge of advertising.
Live! Casino Pittsburgh has also joined in on the fun. Bryan Prettyman, Vice President of Slots and Marketing, told PlayPennsylvania:
"Aristocrat makes up about 25% of the slot machines on our floor right now." Live! To ensure that we have the most popular slots, the casino is continuously listening to guest comments. We recently agreed upon a contract to obtain multiple NFL-themed slots. Still, we do not yet have an expected delivery date. We anticipate that they will be a tremendous hit."
Jeff Morris, Penn Entertainment's VP of Public Affairs and Government Relations told PlayPennsylvania that each of the company's venues in the Keystone State has a "significant number" of Aristocrat slots. Penn Entertainment operates four Hollywood-themed casinos in Pennsylvania. They are as follows:
Penn National Race Course

The Meadows

York

Morgantown
Morris had yet to find out whether Penn Entertainment will release NFL slots in Pennsylvania.
The Procedure for Adding New Slots to PA Casinos
PA casinos must obtain PGCB clearance before releasing new slot games to players.
Doug Harbach, PGCB Director of Communications, outlined the steps casinos have to execute to add new slots:
The PGCB's Gaming Lab must approve the slot game.

To place the game on the floor, each casino must file a request to the Bureau of Casino Compliance.

The game must also be reviewed onsite by board employees to ensure that the software, pay tables, and configurations match the submission.

Before the game can go online and be played by the public, the board's staff examines the surveillance coverage.

NFL slots will target a younger demographic in Pennsylvania casinos.

Since the epidemic, Pennsylvania casinos have invested in non-gaming activities such as restaurants, nightclubs, and hotels in order to appeal to younger clientele. It appears to be working, as PA casinos generated the most significant slot revenue ($2.45 billion) in FY 2022/2023 since 2011/2012. Retail slots accounted for 44.4% of all gambling income in the state.
Although retail gaming is still on the rise, the addition of NFL slots could help to fuel that growth and attract an even younger audience.
Aristocrat will have changeable skins, according to a CNBC article. Players can select their preferred team, after which relevant graphics, footage of significant game moments, and even stadium anthems will be loaded.
Hector Fernandez, CEO of Aristocrat Gaming, told CNBC:
"I truly believe that such could be an industry-changing event for slot machines and casinos themselves… pushing the boundaries and driving innovation to something that has never really been done before."
With the NFL's popularity, it is likely that introducing NFL slots, particularly in football-crazed cities like Philadelphia and Pittsburgh, might elevate retail gaming to a new level.