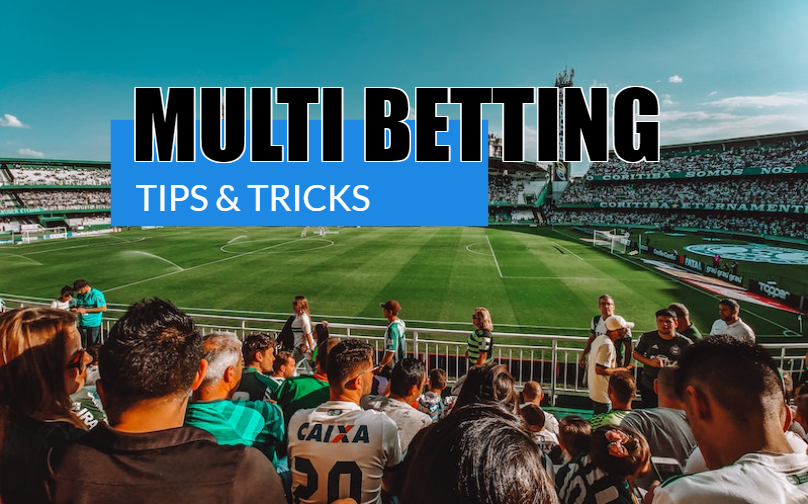 Gamblers can select from a variety of different bet types across a variety of sports. These bets could be put as a single bet or combined with other choices to form a Multiple bet.
What exactly is a multiple bet? How does betting on multiples work? Continue reading this Multiple Betting Guide to find out.
Up to $1,500 Paid Back in Bonus Bets
Your First Bet Is On Caesars Up To $1,000
Second Chance Bet up to $500
2nd Chance Free Bet Up To $500
10 x $100 Second Chance Bets
What Exactly is a Multiple Bet?
A Multiple bet is simply a bet that includes more than one selection, usually with all of the horses needed to come out on top. Still, you may also return an each-way multiple or a put Multiple.
Multiple bets are a viable option for bettors who are interested in making large wagers with potentially hefty payouts. Multiple bets come in various forms, but they all share the same basic concept: bettors make multiple choices at the same time, and in some cases, each one should win for the gambler to secure a return.
As a result, multiple bets can take a lot of work to guarantee a return. Bettors who are effective with multiple bets ought to have expertise in the sport they are wagering on and the participating competitors. If they are not, they run the risk of losing their stake since, in specific multiple bets, even one failed selection can result in the loss of the entire multiple bet.
What are the Various Types of Multiple Bets?
While the concept of a Multiple bet ought to be pretty simple to grasp, there are a few nuances to be aware of when it comes to this particular bet type. We've already established that a bet with one choice is a Single, and anything more than that is a Multiple. Still, as the amount of selections rises, a Multiple bet can be split into multiple bets.
A double is two selections in one bet. A treble is three selections in one bet, and anything preceding is four-fold, five-fold, six-fold, and so on. However, other bet types that may fall underneath the term Multiple in betting are listed below. Instead of combining all selections into a single bet, such bet types cover a variety of different bet combinations.
Patent

: Seven bets covering various permutations across three choices (three singles, three doubles, and one treble).

Yankie

: 11 bets spread across four different permutations (six doubles, four trebles, and one four-fold)

Lucky

 

15

: 15 bets covering various permutations across four options (four singles, six doubles, four trebles, and one four-fold)

Lucky 31

: 31 bets covering various permutations across five options (five singles, 10 doubles, 10 trebles, five four-folds, and one five-fold)

Canadian:

 26 bets covering various permutations across five options (10 doubles, 10 trebles, five four-folds, and one five-fold)

Heinz:

 57 bets spread across six different permutations (15 doubles, 20 trebles, 15 four-folds, six five-folds, and one six-fold).

Super Heinz:

 120 bets spread across seven different permutations (21 doubles, 35 trebles, 35 four-folds, 21 five-folds, seven six-folds, and one eight-fold).

Goliath:

 247 different permutations throughout eight different selections (28 doubles, 56 trebles, 70 four-folds, 28 six-folds, eight seven-folds, and one eight-fold).
Advantages and Disadvantages of Multiples Betting
The main attraction for bettors when it comes to Multiples betting is clear from the scenario given in the previous section: the potential for a higher return on a smaller investment. However, it also emphasizes the primary disadvantage for bettors. More selections raise the risk and reduce the probability of your bet coming out on top since each selection should win for the bet to win overall.
Unsurprisingly, this type of betting is popular among more casual bettors with little knowledge of the probabilistic implications of this wager. However, individuals who are more severe regarding their gambling will warn against such a type of betting because there is a better likelihood for randomness or luck to influence the outcome of the bet. After all, its success is contingent upon the outcome of multiple events.
Although there are good reasons to stay away from Multiples betting if your ultimate aim is to build a good profit, there is additionally a reason to argue why Multiples betting may appeal to sharp bettors.
The mechanics of a Multiple bet are multiplicative. It can also be multiplicative if you've got the right edge as a gambler. Such a Multiple bet could allow bettors to increase their advantage.
We can use an instance to calculate the amount that a bettor can expect to win if they possess an edge by combining two single bets as well as multiple bets using identical selections.
To simplify matters, assume the bookmaker offers the Houston Texans (-3) as well as the Green Bay Packers (-5.5) listed at a probability of 2.10 on the NFL Handicap market. It implies a 47% chance of trying to cover the handicap, but according to your calculations, they have a 50% chance.
Up to $1,500 Paid Back in Bonus Bets
Your First Bet Is On Caesars Up To $1,000
Second Chance Bet up to $500
2nd Chance Free Bet Up To $500
10 x $100 Second Chance Bets