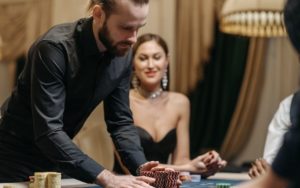 Many recreational gamblers fantasize about becoming professional gamblers. The question here is How to Become a Professional Gambler? The top bettors make millions of dollars as they travel the world, facing competition in tournaments or winning big at online sports betting. However, most of those fortunate enough to make a decent living as professional gamblers do not live that way.
While it is possible to be a professional gambler, the road is not easy. It will have financial risks you should be aware of before you begin. Betting like a pro, in theory, necessitates a lifestyle change. And adopting a professional gambler's lifestyle will result in significant financial changes.
100% Deposit Match Up To $1,000 + $25 On The House
100% Up To $1,000 First Deposit Bonus + $20 on Sign Up
100% Deposit Match Up To $1,250 + 2500 Reward Credits®
100% Deposit Match Up To $1,000 + 10 Bonus Spins
100% Deposit Match Up To $250
Read our comprehensive guide before deciding which is the profession for you. But, first, you must understand what it takes to become a how to become professional sports gambler and professional gambler strategy, and you will see that there is much more to it than reaches the eye.
What is a Professional Gambler?
A professional gambler is an individual who makes a living solely from gambling. To become a professional gambler, no official license or test is required. All you have to do is know what you're doing, accept the risk, and go for it.
There are numerous paths to professional status, ranging from sports betting to casino games like blackjack to other table games like poker. There are also slot machine specialists.
Professional gamblers develop their own set of gaming strategies, wagering systems, and financial planning systems. They also stick to them. It's a numbers game for professional gambling. The room for error is little, and the house edge is such that attempting to push all the chips in at the poker table isn't a sustainable strategy.
To be a pro requires more than just a large bankroll. It's not as easy as going to Vegas for a weekend and hopping from machine to table to sportsbook. It needs discipline and the understanding that this is a job. Taking it seriously and adhering to guidelines that maximize possibility are essential characteristics of any professional bettor.
What Does Being Like a Pro Mean?
It's easy to fantasize about betting like a pro and making a living from your gambling. But what precisely does it imply to bet like a professional? Professional gamblers have discipline, dedication, and a desire to maximize the value of every bet.
You must work extremely hard and concentrate on enhancing your gaming skills if you want to make a living playing online gambling games or sports betting. Here's what it's like to bet professionally.

A Guide on Becoming a Professional Gambler
Gambling will require experience, patience, and time until you are ready to gamble for a living. It's pointless to sugarcoat it. These professional gambler tips will show you what being a professional gambler entails.
It would be best if you approached betting in the same way you would approach a regular "proper" job.
Create a Bankroll
You can't sit at a poker table, put down $100, and expect it to kick off a unique million-dollar professional poker player job. Significant startup capital is required to stay in the game. Pro gamblers can make profits if you hit. However, nothing is assured, and you must be ready with enough funds to weather the upcoming cold fronts.
Make a Money Management Plan
No professional gambler walks up to a table, drops a wad of cash on the table, and throws prudence to the wind. Successful bettors must not only be good at what they are doing, but they must also have a system to manage their bankroll. Sports betting systems offer a calculated strategy for increasing winnings or minimizing losses. It needs a lot of willpower not to chase losses or try to win big on unnecessary risks. However, sticking to the online gambling system and removing emotion from the equation increases your chances of winning the long game.
Know Your Stuff
Pro gamblers understand the house edge for each casino game, sports odds, and the best strategies for each. Of course, there will always be a risk, but the way to create a wage-living pro gambler salary is to lessen the dilemmas by thoroughly understanding the games you play. Pros use percentages rather than intuition.
Practice, then Practice Again
Before going all-in with a large bankroll, visit some low-stakes, even free, games at online casinos or local brick-and-mortar establishments. Please keep track of how you're doing and tweak your game and money management system until you're ready to take it. It's not time to go pro gambling if you're still getting hammered at free social casinos.
Follow the Plan
You've made it this far, thanks to thorough research and dedication. Don't wander off course now that you're going to play for real. Stick to the game plan and place your emotions at bay, even if the dealer shows a five next to their hand of 16. Individuals who manage a professional gambling career remain efficient and note their success and failure.
The Different Kinds of Professional Gamblers
Professional gamblers are not all the same.
To succeed in the casino, you must be competent at counting cards and bluffing effectively. Still, these skills will not help you if you enjoy betting on sports.
Here is a run-through of the various kinds of pro bettors and their fundamental competencies:
Matched Bettor:

 Nearly every online betting site has a sign-up offer or welcome bonus to entice you to join their sportsbook. It has resulted in the rise of matched bettor gamblers, who profit from so-called "free bets." The beauty of such incentives is that no real money is at stake.

Horse Bettor:

 Long before soccer (football) turned into the most popular gambling sport. Professional gamblers could be seen watching horses at racetracks all over the world.

Sports Trader:

Speaking of exchanges, that horse racing point applies to professional sports bettor in general. A sports trader may make dozens of daily buys and sells while looking for a margin among back-and-lay bets.

Arb Bettor:

 This brings us to arbitrage betting, also known as arbing. Arbing, like matched gambling, is frowned upon by bookmakers, so you want to avoid being caught doing that.

Card Counter:

 Casino card games such as blackjack revolve around counting. Even though not illegal, casinos will quickly ban anyone they suspect of card counting because it is a form of advantage play.
Do You Wish To Be A Professional Gambler?
That's all there is to it. Professional gamblers cannot take shortcuts and must thoroughly study the sports or card game they are playing to make gambling as a job.
Before you begin with online betting, you must leave your pride and emotions at the door and rely solely on logic and what you have learned.
There are numerous gambling careers to choose, whether you like horses, counting cards, or making money through sports trading. Each has its skills and characteristics, as well as advantages and disadvantages.
If you're still determined to bet like a pro, follow our advice and best of luck!