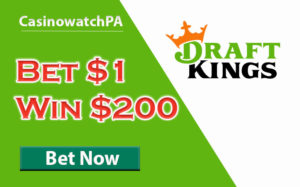 New users who sign up for the latest DraftKings Sportsbook football promotion will easily qualify for a $200 bonus credit simply by wagering $1 on any football game. DraftKings Sportsbook: Bet $1 Win $200 could be any regular season or preseason college or NFL game.
DraftKings Sportsbook is preparing for football's comeback with a great new user promotion. Football season is quickly approaching, and DraftKings Sportsbook is the go-to site for football bettors. NFL preseason action has already begun, and college football action will start later this month.
If it pertains to sports betting, football reigns supreme. A typical weekend begins with Thursday Night Football and ends with college football on Saturday. Then, of course, Sunday has a full slate of action, with Monday Night Football capping it off. However, football fans will soon find themselves in heaven, thanks to this DraftKings Sportsbook football promo and consistently great odds and boosted specials.
DraftKings Sportsbook $1 Bet, $200 Win Promotion
To receive $200, set up an account with DraftKings Sportsbook, create a minimum deposit of $5, and put a $1 bet on any football game. That's all it takes to get involved in the action and start betting with a ton of free bonus money.
Don't worry about how you will bet on a football game. Every NFL preseason game has odds posted by DraftKings Sportsbook, and college football would be less than three weeks away.
When September arrives, it will be nonstop football. DraftKings Sportsbook already offers Week 1, division, Super Bowl odds, college football opening week, and futures odds.
How to Qualify for the DraftKings Sportsbook Football Promo
So, how do you join DraftKings Sportsbook? To get started right away, follow these simple steps:
Sign up for an account by tapping here to receive the bonus.

To be eligible for this DraftKings Sportsbook Football Promotion, you must deposit at least $5.

Put $1 on any accessible football market (NFL or college).

Earn up to $200 in bonuses (eight $25 free bets).
Make your first deposit after signing up, and then choose to go into this deal by selecting subscribe on the main page or in the promos tab.
This promotion is only accessible to new users in the following states:
Colorado

Pennsylvania

Indiana

Iowa

New Jersey

Illinois

Virginia

Michigan

Tennessee

West Virginia
To play online sportsbooks, users must be at least 21 years old.
Football has Returned: Week 1
Although NFL teams are currently in training camps, games have already begun. The Pittsburgh Steelers and Dallas Cowboys kicked off preseason action last week with the Hall of Fame Game, and a full slate of preseason action would be just days away.
Of course, this signifies that the actual thing is getting closer.
The defending Super Bowl victor Tampa Bay Buccaneers, host Dak Prescott and the Dallas Cowboys in Week 1 on September 9. However, the home team is about to obtain their rings, so the Cowboys will try to ruin the occasion. In the meantime, the first full slate of the season begins on September 12.
The college football season kicks off on August 28 with a short slate of games highlighted by Nebraska vs. Illinois. The regular season begins next week, with Alabama hosting Miami (FL).
With DraftKings Sportsbook, you can bet $1 and win $200 immediately on any NFL or college football game.