The Caesars Sportsbook incentives Program enables customers to advance through the tiers and earn great incentives simply by gambling on their preferred sports teams.
Caesars offers a rewards program with multiple tiers and bonuses to all players. In this section, we will go into detail about the Caesars Sportsbook Rewards program, including points and tiers, rewards, and more.
What Exactly are Caesars Sportsbook Rewards?
Caesars Sportsbook's rewards program is divided into six tiers. You may advance on the tier ranking scale by accumulating points gained through wagering on the site. In addition, every level unlocks more intriguing benefits than the one before it.
Users must first join the rewards program and link their account to begin gambling after enrolling for a Caesars Sportsbook account.
Caesars will run promotions throughout the year that include collecting more tier credits.
DraftKings System of Points and Tiers
The Caesars Sportsbook Rewards Program tiers can only be accessed by accumulating points.
Here are the six tiers and the number of points required to unlock them:
Gold:

 tier credits ranging from 0 to 4,999

Platinum: 

tier credits range from 5,000 to 14,999.

Diamond:

 15,000 tier credits – 24,999 tier credits

Diamond Plus: 

tier credits ranging from 25,000 to 74,999

Diamond Elite:

 75,000 tier credits – 149,999 tier credits

Seven Stars:

 150,000 or more tier credits.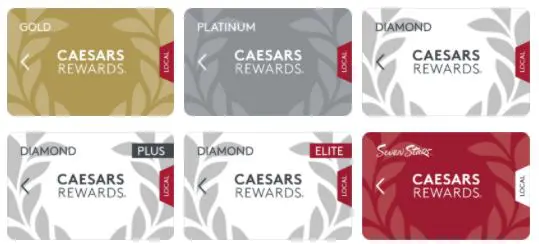 If you earn a specific number of tier credits in one day, Caesars will give you a bonus:
500 Tier Credits equals a 125 bonus

1,000 Tier Credits equates to a $1,000 incentive

2,500 Tier Credits equals a 5,000 bonus

5,000 Tier Credits equals a 10,000 bonus
Sports vs. Casino Play in the Caesars Rewards Program
For sports wagering, you will receive one tier credit for every $5 in possible earnings on sports bets set, up to a maximum of ten times the original amount invested.
However, you'll find ways to acquire tier credits if you wish to play casino games.
You will get 1 Tier Credit for every $5 wagered on slots, 1 Tier Credit for every $10 wagered on video poker, and Tier Credits for playing table games and poker games. However, there is no set quantity of Tier Credits for the latter—you are going to get Tier Credits according to your period of play, average bet, and game type.
Caesars Rewards in Physical Locations
You can earn rewards credits in addition to tier credits by playing at land-based Caesars locations. In addition, you can exchange these rewards credits towards free play credit online in a combination of the tier credits system.
Entertainment

: 1 reward credit for every $1 used for hotel, spa, shopping, and other activities.

Dining

: 1 reward point for every $1 spent

Slots

: 1 reward point for every $5 spent

Video Poker

: 1 reward credit for each $10 spent

Table Games and Poker

: Earn rewards credits based on game length, average bet, and genre.

Sports

: 1 reward point for every $5 spent
Get Your Reward Points Today!
Right now, you are able to acquire both rewards and tier credits. Join up at Caesars Sportsbook, establish a rewards account, then link them for tier credits. Simply click here to begin!
Then, fund your account with a variety of payment methods ranging from debit and credit card payments to prepaid cards.
To obtain rewards credits, you must visit a Caesars location in person. In addition, spending money on entertainment, food, slots, video poker, table games, & poker, and sports earns you rewards credits. Also, read our review about PA online casino promo codes for existing customers for more chances of winning big money!
Customer Service at Caesars Rewards
When it relates to your rewards account, there are several ways to contact Caesars' customer support.
You may have a question concerning your Caesars Sportsbook Rewards. Alternatively, you may require assistance with a Caesars Rewards login problem.
Caesars is available to assist you with any problem. Here's how to get in touch with them:
FAQ:

 There is a comprehensive FAQ section with over 20 questions.

Submit a ticket:

You may reach Caesars Rewards using a ticketing system, where you will enter all relevant information about your inquiry.

Live Chat:

 You can contact Caesars via the online sportsbook or casino's live chat function, and they will guide you on where you need to go.