One of the earliest gambling games was Baccarat. Because of how it is set up, it is typically played by wealthy people for large stakes. Baccarat has always been a mystery to most casino goers, despite the seeming simplicity of the rules. Because of this, it attracts the attention of global billionaires and has the biggest baccarat wins.
In Baccarat, the top baccarat player receives one hand, and the banker gets the other. There are three possible outcomes to wager on: the player, the banker (house), or a tie. Baccarat is a popular game that has recently made its way into casinos and swiftly won over a large following. Many of the most notable card games may find one unique card game in any high-end gambling establishment.
Significant baccarat duels involving now-famous gamblers have attracted spectators from all around the world.
Best PA Casino Bonuses for Live Dealer Baccarat
100% Deposit Match Up To $1,000 + $25 On The House
100% Up To $1,000 First Deposit Bonus + $20 on Sign Up
100% Deposit Match Up To $1,250 + 2500 Reward Credits®
100% Deposit Match Up To $1,000 + 10 Bonus Spins
100% Deposit Match Up To $250
7 Best Baccarat Player in the World
1. Akio Kashiwagi
Real estate in Tokyo was where "The Warrior," Akio Kashiwagi, made his money. In addition to his over $1 billion in assets, he reportedly made $100 million in annual profits.
Kashiwagi could wager enormous sums of money in Atlantic City and Las Vegas casinos because of his vast winnings.
He became famous as a gambling "whale," or highly wealthy player. As one Las Vegas casino executive put it, he's an "elite player, likely in the top 10."
2. John W. Gates
Famous millionaire John Warne Gates lived from 1855 until 1911, during the Gilded Age of Industry. However, the Chicagoan wasn't born into wealth.
Instead, he supplied local households and railroads with firewood. Over time, he made friends with the railroad staff and started playing cards with them.
Although Gates eventually made his money in the barbed wire business, he was always fond of taking chances at card games, a passion he maintained throughout his adult life.
3. The Greek Syndicate
It's safe to assume that most of the baccarat winners on this list were merely lucky in their wagers. In contrast, the Greek Syndicate stands out because of the skill with which they amassed their fortune.
By its very name, the Greek Syndicate sounds like a criminal organization. In all honesty, we might be looking at the largest assemblage of baccarat players ever assembled.
Five people made up the Greek Syndicate: Francois Andre, Zaret Couyoumdjian, Eli Eliopulo, Athanase Vagliano, and Nicolas Zographos.
4. Phil Ivey
Phil Ivey became famous in the gambling world as one of the best poker players. In live tournaments, Ivey has won $10 million and ten gold bracelets from the World Series of Poker (WSOP).
He was also widely considered the best baccarat players in the 2000s. For instance, between 2007 and 2011, he made over $20 million from online cash games.
5. Kerry Packer
Kerry Packer (1937-2005) was an Australian media entrepreneur who amassed vast wealth. Before his passing, Packer collected a net worth of $6.5 billion.
Packer's immense wealth allowed him to wager some of the most considerable sums ever wagered in a casino. The market would swing by millions of dollars throughout a single weekend, which he saw frequently.
After gambling for three days straight at baccarat in Las Vegas, he lost nearly £13.6 million. In 2000, the Telegraph reported that this was the most significant short-term loss in Vegas's history.
6. Archie Karas
To most people, "The Run" by Archie Karas is the best baccarat players run ever. A poker buddy lent the Greek-born gambler $10,000, and he returned the favor by winning $40 million.
In December 1992, Karas started his journey when he traveled from Los Angeles to Las Vegas with only $50. He borrowed $10,000 from a buddy and used it to win $17 million at pool and poker.
7. Tommy Renzoni
For centuries, baccarat has been a popular game in Europe. However, baccarat didn't become popular in American casinos until Frances "Tommy" Renzoni arrived in the 1950s.
Argentina might claim to be the country that initially brought baccarat to the Americas. The Argentine version is Punto Y Banco, or simply punto banco outside of South America.
One day, the game made its way to Renzoni's home country of Cuba. Junior manager Tommy correctly anticipated that Punto Banco would become widely played in casinos in Las Vegas.
Biggest Baccarat Win Ever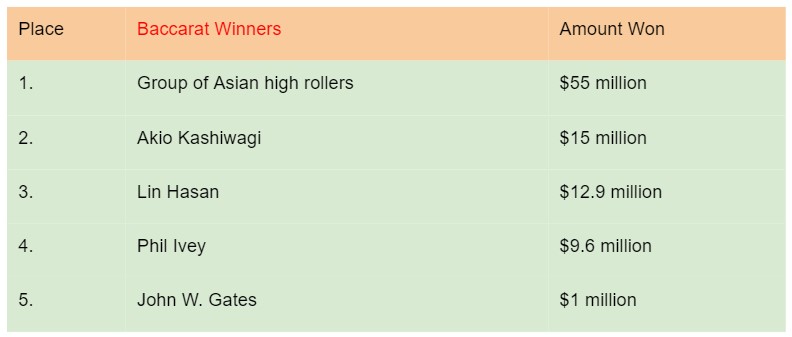 Biggest Baccarat Wins
A group of high-profile Asian biggest baccarat winners in Australia won $55 million
Casinos want the world's professional baccarat player for higher stakes and more significant profits. Crown Casino in Australia overspent on ads and made some players $500,000. Over months, they claimed $55 million from Asian high-rollers. Baccarat has the slightest house edge of all the major casino games.
A Japanese Baccarat Tycoon nearly drowned Donald Trump
Akio Kashiwagi won $20 million at Australia's Goldsmith's Diamond Beach Casino. this is one of the biggest baccarat wins. Unknown man with yakuza ties. Akio enjoyed baccarat. Before meeting Trump, he bet $250,000 and won $1 million in 30 minutes.
Highest Baccarat Limit
It is one of the most significant jackpots in the history of baccarat. A player from Hong Kong took home the $12,890,500 first prize (2015 World Series of Baccarat Championship). The overall prize pool for the tournament was $15 million, which broke the previous record.
Legendary poker player Phil Ivey takes home $9.6 million at Baccarat
The poker equivalent of Tiger Woods was a baccarat fanatic. Phil Ivey won $4.8 In Atlantic City's Borgata Hotel Casino & Spa, a jackpot of $1 million. In 17 hours. In 2016, a judge ruled that Ivey and Cheung Yin Sun owed $10 million to the casino.
How did "Mr. Bet a Million" get his start playing Baccarat?
John Warne Gates was a wealthy manufacturer and gambler in Gilded Age America. He became enamored with poker after being invited to private sessions of best baccarat strategy at the Waldorf-Astoria. John, a former banker, raised the stakes by betting a million dollars on a single hand. The duel ended in a tie as the player won and lost a hand. Meaning they exchanged no money on occasion. John's epic story has earned him a new nickname – "Mr. Bet a Million."
Best Mobile Baccarat Apps (Top 3)
Is trying it out for yourself something you feel like doing? BetMGM App, Caesars App, and WynnBet Casino App are the best three mobile apps for playing live online baccarat in the US. Take care to play at legitimate, regulated online casinos only.
Baccarat Winners FAQs
Who wins the most in baccarat?
The Banker's hand has a 45.8% chance of winning a baccarat game. And as of edging out the Player's hand, which has a 44.6% chance of winning.
How do you win baccarat?
The first step to winning at Baccarat is betting on the dealer's hand out of the two hidden hands. Then, you win your wager if your hand ranks higher than the other in proximity to 9 points.
Does baccarat have the best odds?
Compared to other games, the house advantage in Baccarat is relatively tiny. The house edge in Baccarat is one of the lowest of any casino game or online gambling site at just 1.06%.
Can you get rich off baccarat?
While this isn't a lot of money to start with, baccarat does offer the chance to become wealthy. In addition, you'll need to increase your bankroll if you wish to play more than a few hands.
What is the max bet on baccarat?
You can play Baccarat at an online casino for as little as $1 and as much as $100 every hand.
Do people make a living off baccarat?
Winning at Baccarat is a realistic goal, but getting the biggest baccarat wins is possible. It's a simple card game that doesn't require much. It is a popular option for those looking to pass the time in a casino. One can play Baccarat with a small investment and stand to win a substantial payout.