When you compare a market giant like Pokerstars to a well-known online poker site like 888poker, you can expect both to have many features, outstanding bonuses, and financially rewarding tournaments. However, to fully comprehend how these two vary, we must examine every aspect of 888 Poker vs PokerStars to decide which of them is suitable for your poker wants.
100% Deposit Match Up To $1,000 + Up to $75 in Tournament Tickets
100% Deposit Match Up To $1,000
An Overview of 888 Poker vs PokerStars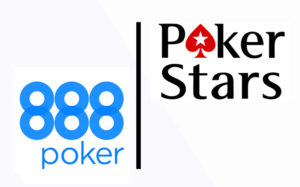 888poker has been in operation since 2002 and is controlled and managed by 888 Holdings Limited, a social gambling company based in Gibraltar. 888poker, licensed and governed by the UK Gambling Commission, has won three EGR Best Poker Operator of the Year awards and has more than 10 million players worldwide.
Pokerstars, which is founded in 2001, is the world's largest online poker room. Based on the Isle of Man, Pokerstars produces more traffic than every other online poker room and offers a whole online poker experience, including live sporting events, cash games, and league matches. Pokerstars, which the Stars Group owns, created Chris Moneymaker, the World Series of Poker champion, in 2003. The Isle of Man Gambling Supervision Commission licenses and regulates the online poker room.
Bonuses for New Customers
It's difficult to say which of these two poker rooms' welcome bonuses is more satisfying to players. However, 888poker does offer a no deposit bonus, which is the only one left in the online poker industry, which makes it more appealing than Pokerstars.
Pokerstars is delighted that it has recently hit 100 million players, which means there are numerous promotions to commemorate this incredible achievement. Pokerstars has something for everyone, from freerolls to daily challenges.
888poker is also drawing in fresh players with their entirely separate Live the Game promotion, which offers a few deposit bonuses and a slew of challenges on a daily basis. However, when comparing both online poker rooms, we must give Pokerstars a slight advantage because of the sheer number of promos on offer.
Existing Players Bonuses
Pokerstars has an abundance of special incentives available to existing clients. A player's interest and bankroll can be used to select from a variety of possibilities. 
The Sunday Billion is a special bonus offer for the No Limit Hold'em event. All players will be battling for the chance to select their portion of one billion chips. This tournament has a 1 million chip buy-in and can be highly competitive. 
It is a deal designed for high rollers. However, because Pokerstars is so focused on cash games, it follows with an equally fantastic offer in these areas. A participant can compete for weekly prizes ranging from 50 million to a billion chips. 
If it comes to bonus offers, 888 Poker is significant. These can range from an introductory refer-a-friend offer to a massive package that will reward customers with a substantial bonus amount. 
For instance, the Millions Superstorm is a promotion that grants entry to a prize pool of more than $1 million. Notably, the buy-in for the deal is minimal, at only $1. A platform user may also come upon giveaways that offer seats, tickets, and rewards for the main event.
Loyalty Rewards
The points you earn for meeting wagering requirements on bonuses at 888poker are eligible for use in the rewards program. Rake contribution, as with most multi-tiered loyalty programs, makes your points. In addition, tournament entries, freerolls, and numerous merchandise from their exclusive store are typical rewards.
Pokerstars also has a fantastic multi-tiered rewards program that lets you transform points into cash. In addition, the poker site goes above and beyond with Star Reward Chests and Featured Rewards, which include everything from StarsCoins to exclusive tickets and live event bundles.
Different Categories of Games
The welcome bonus is undeniably appealing, but the existence of games also plays a significant part in assessing the efficacy of a poker platform. Pokerstars is impressive in nearly every type of game available in the poker section. Since its outset, the brand has exhausted its time to attract a diverse range of player profiles and build a strong portfolio.
888poker is similar to Pokerstars, but there is a significant decrease in the number of options. Nonetheless, many newcomers to the world of online poker will have nothing to complain about.
Tournaments
The tournament sector is where 888poker falls short of Pokerstars. Any player looking to get into a suitable prize pool will benefit from such a sector. Many online titles are available due to 888poker's partnership with the World Series of Poker. 888poker may be the best choice for attempting to succeed in Las Vegas online with a small bankroll.
Pokerstars is a top destination for tournament players. A comprehensive list of tournaments at various levels is available. For high-stakes events, players can find freerolls or buy-ins. Aside from daily tournaments, Pokerstars is a great place to find many weekly events.
Cash Games
Both platforms offer a good selection of cash games. Still, Pokerstars has a significant advantage in that its betting limits begin at $0.01. The high-stakes games can accept blinds as high as $200. The ultra-high-stakes games on the platform may need to be noticed. 
For those interested in cash games at 888poker, the range is quite good, with limits ranging from $0.01 to $50 on titles such as No-Limit Hold'em. Additionally, there is a greater emphasis on mid and low-stakes titles, as players rarely use higher-stakes titles. 
User Experience
Both Pokerstars and 888poker provide a wide range of customization options. They are additionally running the most recent graphics versions, which look great on any device. Several online poker rooms will need help to compete with Pokerstars and 888poker's customization options. Another important factor for players to consider is game speed and the involvement of any loading issues. Both of these platforms succeed in these two areas, as games load quickly and without difficulty. In regards to user experience, there is little difference between the two, but Pokerstars has a slight advantage.
Mobile App
The 888poker mobile app has been available since 2012. Its layout, features, and gaming selections have all undergone significant changes over the years. The app is compatible with both Apple and Android devices. Aside from the availability of the majority of games on the platform, the 888poker mobile app also provides banking options that can be utilized without the need for a desktop.
Pokerstars is an ideal choice for those who want to use a mobile device, such as an Android or iOS device, to access the platform. Pokerstars' mobile poker client meets all of the expectations of players with varying experience levels. It offers an extensive gaming experience and is designed to look similar to a desktop computer. However, the app also includes many options that enable players to customize gameplay and various other parameters. The customization options available on the Pokerstars mobile app set it apart from the competition.
Banking Methods
When it comes to banking options, Pokerstars and 888poker are nearly identical. Of course, the two are similar, as both platforms accept credit cards, debit, NETELLER, Skrill, PayPal, and many other payment methods. All of these options provide a quick and secure way to make or withdraw payments.
Customer Service
Pokerstars has a massive downside in this regard because the only way to contact the support team is via email. So it is a big letdown that live chat is not accessible as a means of contacting support.
Meanwhile, 888poker offers three major verticals that are critical for iGaming users: email, live chat, and phone line. Regardless of which of the options is unavailable for any reason, 888poker can provide assistance through other channels.
Final Word
Between Pokerstars and 888poker, there is a lot of competition. Both of these platforms are at the pinnacle of online poker. However, the comparison battle between any of these two titans will teach online poker players a lot. Even though 888poker excels in a number of areas, such as public image, welcome bonus offers, and much more, it falls short of Pokerstars on a number of fronts. 888poker serves as a more platform for recreational players. If the player is focused on meeting any need for hype, both can provide a comparable experience. However, when it comes to gaming options, software stability, and other parameters, Pokerstars is unquestionably the best platform.